'I'm So Excited' Teaser Trailer: Almodovar Calls In Cruz And Banderas For Cameos [Updated With Subtitles]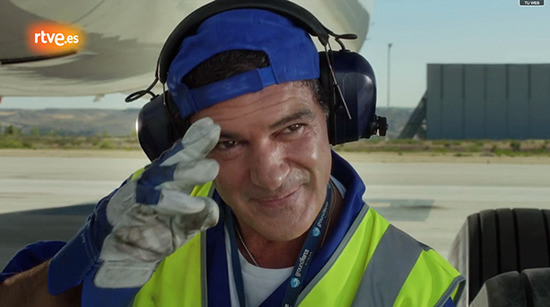 At first, Pedro Almodovar's new film I'm So Excited! seems to move away from the psycho-sexual weirdness of his last movie, The Skin I Live In and its predecessor Broken Embraces. The colors are bold, the energy is big, and the tone is defiantly upbeat, at least from what we've seen of the film to date.
But all is not necessarily well. The film follows "the passengers and crew of an imminently doomed plane, as hysteria begins to take over the plane's interior." Because this trailer is entirely in Spanish, there will be readers who have to determine the particulars by inference alone. But because it's Almodovar, whose visual storytelling is reliably brash, there's more than enough to digest here even without the dialogue. Plus there are little appearances from Almodovar's old compatriots Antonio Banderas and Penelope Cruz.
Update: The trailer has hit the UK, this time with English subtitles. I've swapped out the old Spanish-only embed and bumped this to give you a look at the subbed version.
I like the goofy implied violence of Cruz's appearance here, if only because it would usually be the guy in that role, rather than a woman.
Here's the new subtitled teaser, via Total Film:
I'm So Excited premieres in Spain on March 8, and Sony Pictures Classics recently set the US date for June 28.