Sequel Bits: 'Paranormal Activity 5', 'Machete Kills', 'Indiana Jones 5', 'The Expendables 3', 'Mama 2', 'Insidious Chapter 2', 'Knocked Up' Spinoff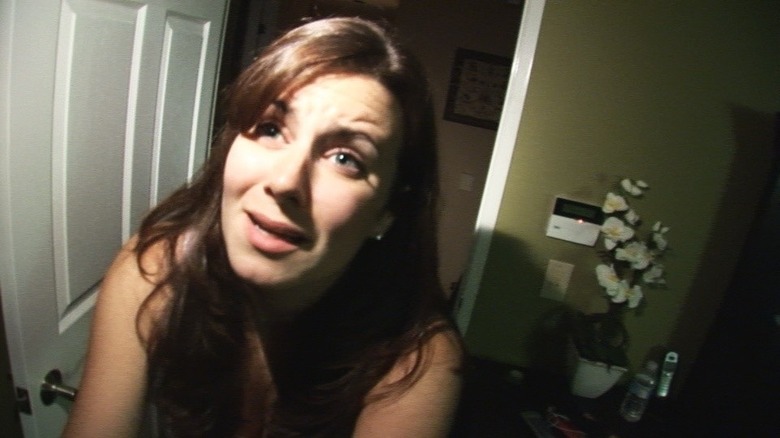 So far, the scariest thing about Paranormal Activity 5 may be how little anyone involved with it claims to know about it. We are talking about a movie that's due out in just under nine months. After the jump:
Katie Featherston and Oren Peli talk Paranormal Activity 5
No, Linday Lohan will not be reprising her role for Machete Kills
Steven Spielberg says George Lucas still plans to do Indiana Jones 5
Sylvester Stallone is joking about wanting Bill Clinton for Expendables 3, right?
Judd Apatow considers another Knocked Up spinoff, this time about the kids
Andy Muschietti does not think there should be a Mama 2
Check out a sunny set photo from Insidious Chapter 2
"Even if I knew exactly, I wouldn't want to tell you because we like to keep everything under wraps when it comes to our future development," he said when asked about the direction of the series. "So I wouldn't want to give anything away as to what we're planning in the future." Peli made good on his word, politely declining to comment on Katie Featherston's potential return ("I'm not able to say anything") and the decision to launch a spinoff ("I won't be able to address that").
In a separate interview, Featherston herself was slightly more open but had little information to share. "[T]ruthfully, I really don't know anything," she admitted of Paranormal Activity 5. "I would love to be a part of it if there's a reasonable way and purpose for me to be in it."
Her position was on the spinoff was similar. "Oh, I don't know. I haven't even really thought about that because I don't know much about the spinoff," she said. "If they needed me in some way, I would be excited to have that conversation and to see what I could do to help, but that's an interesting question. That's something I'd have to think about."
Either way, Paranormal Activity 5 is slated for release October 25. Go to MTV for more from Peli's interview, and Screen Crush to read the rest of Featherston's.
Several familar faces from Machete will crop back up in Machete Kills, but don't look for Lindsay Lohan's April among them. "No, she's not in it," confirmed director Robert Rodriguez. "We thought to bring her back because we like that character, but it didn't fit into the story." I can't blame the guy — two celebrity train wrecks seem like more than enough to handle already. Machete Kills opens September 13. [MTV]
There hasn't been a ton of Indiana Jones 5 talk since the Lucasfilm sale, but according to Steven Spielberg, George Lucas still intends to make the movie happen. Eventually. And Spielberg himself will be on board if and only if Lucas gets things going. "I will not make another Indiana Jones film unless it's based on George's story," he said. Because that worked out so well last time. [THR]
The entire point of the Expendables franchise is to collect everyone's favorite big names from the '80s and '90s all in one place. So far, that's mostly meant action stars. But could the scope be expanded to include political power players? Sylvester Stallone teased a possible appearance by one former Commander-in-Chief. "Maybe President [Bill] Clinton wants to be in it," he said. "You think I'm joking, right?"
Well, yeah, because he probably is — but how amusingly bizarre would it be if he wasn't? Besides, Clinton wouldn't be the first to make the leap from elected office to Expendable. Arnold Schwarzenegger was still Governor of California when he made his cameo appearance in the first one. [MTV]
Judd Apatow has never been shy about mining his own life for movie material, even casting his own wife (Leslie Mann) and kids (Maude and Iris Apatow) in Knocked Up and its spinoff This is 40. And he hopes to keep using his family and the characters they play in a third movie, which will center on the children.
I like the series that Truffaut made where he revisited the same character five different times in five different movies. I think it's fun to see people grow up. I'm interested in [a third movie] with Leslie (Mann) and Paul (Rudd)'s characters... Pete and Debbie... but I'm even more interested in Maude and Iris.
When we first met Maude's character, Sadie, she was 8-years-old, she didn't understand where babies come from and know we see her five years later and she's just cursing and screaming and having teenager problems so I'm thinking that maybe in the next one she's in college.
Apatow admitted, however, that he may be driven in part by the same impulse that inspires everyone's parents to bust out the camcorder. "Or maybe I'm just lazy and this is a great way to make home movies," he said. [Getty Images Entertainment via HeyUGuys]
(Editor's note: That Truffaut series is, of course, the set of Antoine Doniel films that began with Truffaut's debut, The 400 Blows. Criterion has an excellent box set featuring all the films, and it is very worth your time and money.)
Mama has already managed to pull in over three times its production budget in box office grosses, so naturally some folks are wondering about the possibility of a sequel. However, director Andy Muschietti says he, for one, isn't interested.
We sort of wore out the subject matter...I never thought this could continue. Sequels are always tricky. I know how studios think but I don't see 'Mama' as something you can exploit because you're screwing with the original. I'm really hoping to jump into some other movies right now.
Besides, even if he wanted to he might not have time. Muschietti added that he's currently developing three other projects, two horror films and a sci-fi comedy, with plans to make one of them his next directorial effort. [Screen Crush]
Here's the first photo from the set of Insidious Chapter 2, complete with a ghost that looks eerily like a thumb.
Directed by James Wan and once again starring Rose Byrne and Patrick Wilson, Insidious Chapter 2 opens August 30.