'Loomis Fargo' Is A Go; Jim Carrey Stars And Jared Hess Directs Real Life Heist Comedy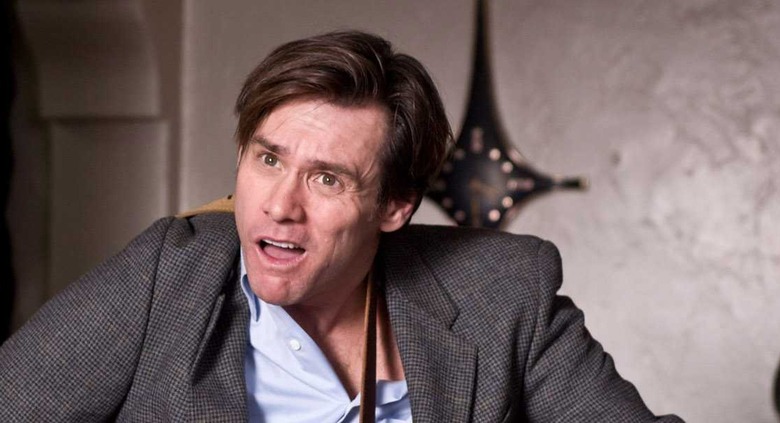 We may receive a commission on purchases made from links.
While it was first revealed last year, the director of Napoleon Dynamite is now firmly set to rob a bank, and Jim Carrey is along for the ride.
Beginning in April, Jared Hess will direct Loomis Fargo, an action-comedy based on real events. It'll star Carrey as a disgruntled bank employee who steals nearly $20 million, but leaves an exorbitant amount of evidence behind. Lorne Michaels, Danny McBride and Jody Hill are among the film's producers, Relativity Media will finance, and the screenplay is by Emily Spivey, Chris Bowman and Hubbel Palmer.
Here's the official press release for the film, which includes the plot description. The Wrap originally broke the news:
Relativity Media has acquired worldwide rights to finance, produce and distribute the action-comedy heist film currently titled Loomis Fargo starring Jim Carrey, it was announced today by Relativity. The project, directed by Jared Hess (Napoleon Dynamite, Nacho Libre), based on an original screenplay by Emily Spivey (Up All Night) and written by Chris Bowman (The Wrong Brother) and Hubbel Palmer (Humble Pie), is targeted to start production in North Carolina this April.
Inspired by true events, Loomis Fargo tells the story of a disgruntled bank employee who is ready to take a chance and risk it all for love, money, and a life he's only dreamed of.   Teaming up with his work crush, they conspire to rob the financial institution. Together with their accomplices, the inexperienced criminals nab nearly $20 million – leaving a trail of evidence in their wake. Now the only thing tougher than pulling off the heist – will be getting away with it.  Carrey can be seen next in Don Scardino's The Incredible Burt Wonderstone and Jeff Wadlow's Kick-Ass 2.
The project will be produced by Lorne Michaels & John Goldwyn (The Guilt Trip, Baby Mama). Danny McBride (Pineapple Express, Tropic Thunder), Jody Hill (Eastbound & Down), Michael Aguilar (What Happens in Vegas) and Kevin Messick (The Other Guys) will executive produce alongside Relativity's CEO, Ryan Kavanaugh (The Fighter) and President, Tucker Tooley (The Fighter).  Relativity's Brett Dahl will oversee the project for the studio.
If you're interested in learning more about this story, it's recounted in the book Heist!: The $17 Million Loomis Fargo Theft, by Jeff Diamant.