New Images: Jodie Foster As The Villain Of Neill Blomkamp's 'Elysium'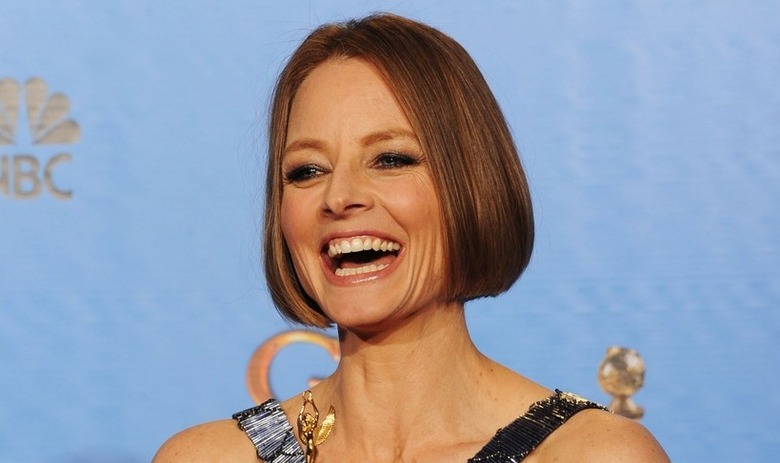 For his follow-up to 2009's District 9, Neill Blomkamp is heading back to sci-fi. Elysium depicts a divided 22nd century society in which the extremely wealthy reside comfortably in an immaculate space station (called Elysium, hence the title), while everyone else ekes out a living on a ruined Earth. The first photos showed Matt Damon as Max, a desperate man who needs to cross that divide, and Sharlto Copley as Kruger, the dirty bounty hunter on his tail.
Now, the newest images highlight a character from the other segment of that population. Jodie Foster plays Secretary Delacourt, who'll do whatever it takes to maintain the hard line separating the haves from the have-nots. Obviously, that means trying to keep Max the hell out of her beloved Elysium. Check out her pictures after the jump.
Simply Jodie (via Bleeding Cool) dug up the images.
We've been eagerly awaiting Elysium since the moment we first heard about it, and while I wasn't lucky enough to catch the first footage at last year's Comic-Con, my colleagues assured me it more than lived up to the hype. Peter tweeted that it "won Comic-Con," while Germain gushed that he could now die happy. (Personally, I'd rather he not die at all.) Fingers crossed we'll have an actual trailer to share with you soon.
Also starring Wagner Moura, Alice Braga, and Diego Luna, Elysium lands August 9.
In the year 2159, two classes of people exist: the very wealthy, who live on a pristine man-made space station called Elysium, and the rest, who live on an overpopulated, ruined Earth. Secretary Delacourt (Jodie Foster) will stop at nothing to preserve the luxurious lifestyle of the citizens of Elysium – but that doesn't stop the people of Earth from trying to get in by any means they can. Max (Matt Damon) agrees to take on a life-threatening mission, one that could bring equality to these polarized worlds.