Art-House All-Stars: 'Body Art' To Star Isabelle Huppert, Denis Lavant, And David Cronenberg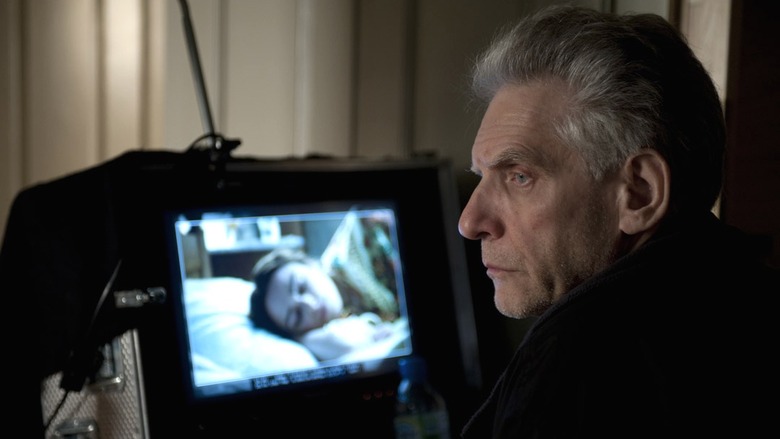 We may receive a commission on purchases made from links.
It's unusual to see David Cronenberg's name in the roster of a film as an actor rather than a writer or director, but this isn't the first time. Cronenberg is one of three primary actors in a new project called Body Art — a title that is almost right on the nose, given Cronenberg's classic "body horror" proclivities — from I Am Love director Luca Guadagnino.
And Cronenberg won't be alone, as he has two grand compatriots in the cast: the venerable Isabelle Huppert, and Denis Lavant. The latter is the star of last year's best film, Holy Motors, and his presence here is enough to rocket this one high up on my to-watch list. And if that weren't enough, the basis of the story is extremely intriguing — find that below.
The film is an adaptation of Don DeLillo's 2002 novel The Body Artist; DeLillo's novel Cosmopolis was the basis for Cronenberg's most recent directorial effort. The plot finds "a woman (Huppert) who, grieving after her husband's death, discovers that a stranger is living in her upstairs room." Guadagnino is scripting.
Here's a fairly revealing description of the novel from Publisher's Weekly, which is to say potential spoilers follow:
This slim novella is puzzling, and may prove entirely mystifying to many readers; like all DeLillo's fiction, it offers a vision of contemporary life that expresses itself most clearly in how the story is told. Would you recognize what you had said weeks earlier, if it were the last thing, among other last things, you said to someone you loved and would never see again? That question, posed late in the narrative, helps explain the somewhat aimless and seemingly pointless opening scene, in which a couple gets up, has breakfast, and the man looks for his keys. Next we learn that he, failed film director Rey Robles, 64, is dead of a self-inflicted gunshot wound. She, Lauren, a "body artist," goes on living alone in their house along a lonely coast, until she tracks a noise to an unused room on the third floor and to a tiny, misshapen man who repeats back conversations that she and Rey had weeks before. Is Mr. Tuttle, as Lauren calls him, real, possibly an inmate wandered off from a local institution? Or is he a figment of Lauren's grieving imagination? Is this, as DeLillo playfully slips into Lauren's mind at one point, the first case of a human abducting an alien?
There's a lot there, but a couple things come to mind. One is that Cronenberg is likely playing the late husband. If so, this would contain multiple references to his own life. One, obviously, is the character's profession. The other, through the suicide, is a reference to Cronenberg's portion of the omnibus film Chacun son cinema, At the Suicide of the Last Jew in the World in the Last Cinema in the World.
I presume that Cronenberg is playing the husband, because when he and Denis Lavant are on hand, one doesn't cast Lavant as the dead guy. And there, too, is a resonance: the character sounds like one that Lavant could have easily played in Holy Motors. All these things make me quite eager to see Body Art. The film shoots later this year. [Variety]