Sequel Bits: 'Monsters University', 'G.I. Joe: Retaliation', 'The Hangover Part III', 'The Legend Of Conan', 'Riddick', 'Sin City: A Dame To Kill For'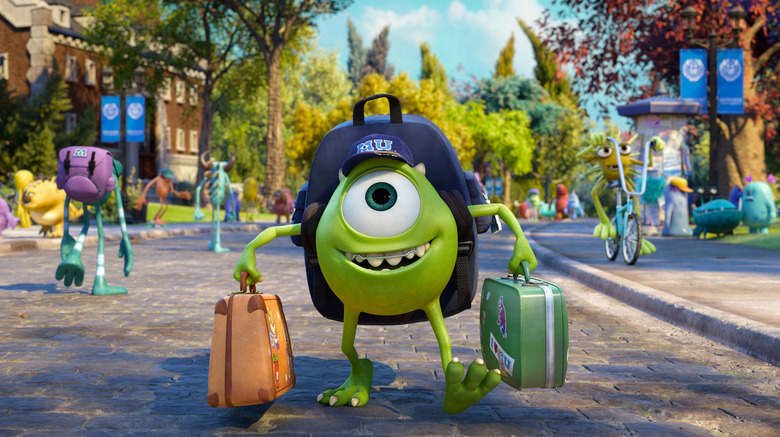 Whether your idea of fun is G-rated college kids or hard-R strippers, there's something in today's Sequel Bits for you. After the jump:
Jessica Alba promises to do more dancing in Sin City: A Dame to Kill For
... while Robert Rodrigez comments on Dennis Haysbert replacing Michael Clarke Duncan
Arnold Schwarzenegger explains why his age won't be an issue in The Legend of Conan
Screenwriter Craig Mazin talks about weathering criticism for The Hangover Part II
G.I. Joe: Retaliation will be digitally remastered for a one-week IMAX 3D release
See some cute international posters and a new setting for Monsters University
Vin Diesel and Karl Urban face off once again in the newest Riddick still
"I had to learn a bunch of dance sequences for it. I do a lot more dancing in this one," she said. "It was kind of crazy. It was very, very difficult, and you'll see why." [Vulture]
Another thing we can look forward to in the new film is the addition of Dennis Haysbert, who replaces the late Michael Clarke Duncan as Manute. While Haysbert's casting began with tragedy, director Robert Rodriguez says he's been thrilled to see Haysbert make the part his own.
Dennis is going to bring his own thing to it but it's very much pays tribute to what Michael did and is very much in line with the role. He's such a fantastic actor and an amazing presence. He's really exciting to work with. I've been adding dialogue for him. It's so fun.
Haysbert is just a small part of the top-shelf cast Rodriguez has collected for the film, and the director has some theories as to why actors are intrigued by the material.
People get to do things they don't normally get to do in the movies in Frank Miller's 'Sin City' world. We have a lot of license to disguise yourself and really be someone else, do something totally outside your normal career. I think that's why actors tend to gravitate toward these movies. It's a real license to have a lot of fun and do something different, to take a vacation from the work they normally do, to go out on a limb — and it's welcomed.
Sin City: A Dame to Kill For opens October 4. [MTV]
Since returning to his acting career, Arnold Schwarzenegger has been very eager to bring back some of his old characters. The fact that years or even decades have passed since he played some of these parts could prove a problem in some cases, but the former California governor says that isn't the case with The Legend of Conan.
Age doesn't mean anything to me, because I work out every day. I work out twice a day, as a matter of fact. So for me, to get on the set and to swing the sword around again and to ride the horses and all those things doesn't mean anything [does not scare me], because I feel like I did thirty years ago. So as long as I stay in shape, that's the key thing, and to keep your body young. Even though you do feel the pain when you wipe out and when you do your fight scenes and you get more sore and the body doesn't come back as quickly and all this ... but just grind through it, you know? That's what it's all about!
Obviously, no amount of working out can hide the fact that Schwarzenegger isn't in his thirties anymore, but the new film is expected to pick up with the character at a more, uh, advanced age. Once they've got the story locked down, Malmberg says they'll need to find the right helmer and the right look.
We're concentrating on the story and the script, and then we'll go out and find the right director who has the same passion as the rest of us in the group. [...] I mean, we're trying to get the TOP production people involved. We're talking all the time about who we'd see doing the production, and our dream would be to have the WETA Workshop guys, the LOTR and Hobbit guys. They are huge Conan fans and they would be great to be involved on the creative side.
The Legend of Conan is tentatively slated for a summer 2014 release. [TheArnoldFans via IFC]
Most sequels try and offer the same pleasures as the previous film did, but few try to replicate them as entirely, or as lazily, as The Hangover Part II did. We were very relieved, then, to hear Part III would finally stray from the formula. But screenwriter Craig Mazin wants to be clear that the new plotline isn't a response to criticim — rather, that was just the plan all along. Besides, he doesn't really care what critics think anyway.
It's not so much that the criticism makes you make different choices. Rather, the criticism makes you start anticipating the reaction to your choices, and you've gotta get that out of your head. We always knew the third movie was not going to have these guys waking up from a night that they've forgotten because we understood that it needed to happen twice, so that the third movie could end it by addressing why it happened twice. But then, you think, "They're going to go, 'Well, I guess they listened to us,'" but no. And then, what inevitably ends up happening is that I look at Todd and he looks at me, and we go, "Wait a second, why are we even talking about this? Who cares! They're going to say what they want to say. It doesn't matter!" It didn't matter on The Hangover II, at all, and it's not going to matter on The Hangover III. Either people will like it, or people won't, meaning the audience. That's it.
Honestly, I will be so thrilled if there really is something in Part III that retroactively justifies Part II's decisions. Either way, Part III opens May 24. [Collider]
G.I. Joe: Retaliation hasn't just been post-converted for 3D. It's also being remastered for IMAX, so that it can get a one-week run on those massive screens. Paramount and IMAX have announced that the action sequel will land in 3D IMAX starting March 29 in the U.S. (the same date as its regular, non-3D, non-IMAX release). The following week, it'll be pushed out by the one-week-only 3D IMAX engagement of Jurassic Park. Read the full press release here.
Mike and Sulley are going global in this latest batch of Monsters University posters, targeting Spanish, German, and Chinese audiences. In addition, there's a new image that shows Sulley walking through an especially picturesque corner of the campus.
[via Pixar Post, Bleeding Cool]
If you liked those, keep an eye out for much more Monsters University marketing in the near future. With the June 21 release just five months away, the campaign is about to kick into high gear. Pixar Planet reports that a new trailer will drop sometime in February, but could be preceded by a TV spot during the Super Bowl next weekend.
Finally, Vin Diesel has shared another still from Riddick. Evidently Vaako (Karl Urban) and Riddick get along no better in the new installment than they did in the previous one.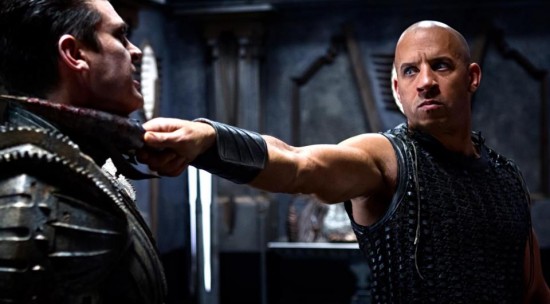 Riddick is scheduled to open September 6. [Facebook]