Paul Giamatti To Play The Rhino In 'The Amazing Spider-Man 2'; Felicity Jones Also In Talks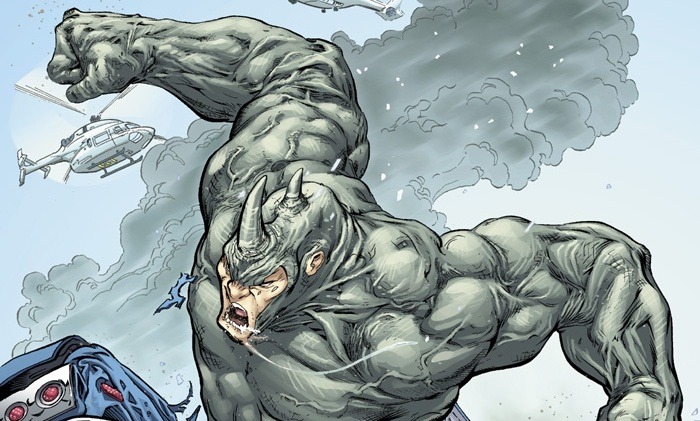 Whatever you thought of The Amazing Spider-Man, it couldn't be denied that Marc Webb had put together an amazing cast. But at the rate the sequel is snapping up stars, it could wind up topping even its predecessor on that front.
Paul Giamatti has entered talks to join the movie in the role of the Rhino, a hulking villain whose dim intelligence is balanced by severe strength and the ability to charge at superhuman speed. Meanwhile, Felicity Jones has also begun negotiations for an unspecified role. Should the two close their deals, they'll be joining returning stars Andrew Garfield and Emma Stone, along with franchise newcomers Jamie Foxx, Shailene Woodley, and Dane DeHaan. More details after the jump.
Via @seantee, Paul Giamatti talking on Conan O'Brien about how much he wants to play the Rhino in a Spider-Man movie. http://t.co/0n66yV2g

— Matt Singer (@mattsinger) January 28, 2013
The addition of Rhino to The Amazing Spider-Man 2's rogues gallery suggests that the series could be building up to a showdown against the supervillain group he Sinister Six in the third film. The Amazing Spider-Man 2's Rhino and Electro (Foxx) and The Amazing Spider-Man's Lizard (Rhys Ifans) have all been part of the group at various points of the comic book timeline. In addition, DeHaan's upcoming character Harry Osborne is the son of the Green Goblin, and in one comic storyline eventually becomes the Green Goblin himself. If he suits up as a villain, that leaves just two more characters to be introduced in the third film to potentially round out the group.
Update: Latino Review has some interesting theories on where the casting of Giamatti as Rhino is headed. Here's the abbreviated version: Rhino actually appears in the Amazing Spider-Man video game tie-in, as the result of an ill-advised experiment by Rajit Ratha (Irrfan Khan); he can also be spotted on the DNA tree in the lab along with the Scorpion. LR's favorite theory is that Giamatti will play a non-superpowered version of the Rhino, highlighting the dark consequences of some of Oscorp's work.
It's a lot of speculation, to be sure. The choice of villains in Webb's films could just as easily be rooted in picking characters that weren't exploited in Sam Raimi's trilogy.
Regardless of what happens (or doesn't) with the Sinister Six, there are definitely some bad times for Peter Parker coming up ahead. It's been widely reported that the next two films will build up to the iconic "Death of Gwen Stacy" storyline from the comics. The Amazing Spider-Man 2 lands in theaters May 2.