Sequel Bits: 'Dumb And Dumber To', 'Anchorman 2', 'G.I. Joe: Retaliation', 'Halloween 3D', 'Machete In Space', 'El Mariachi', 'Star Trek Into Darkness'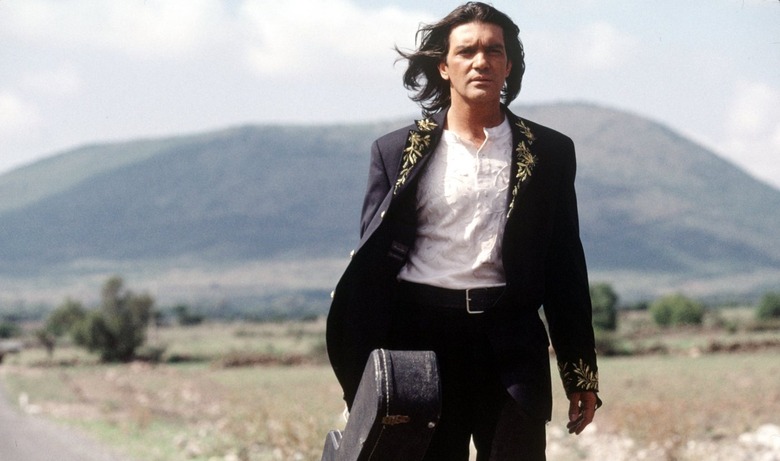 Who's up for another El Mariachi movie? Robert Rodriguez and Antonio Banderas definitely are. Also after the jump:
Could Channing Tatum or Emma Stone be in Dumb and Dumber To?
Steve Carell hasn't seen a script yet for Anchorman 2
Jon M. Chu has things to say about G.I. Joe: Retaliation
Rob Zombie does not have plans for a Halloween 3
Robert Rodriguez is excited for Machete in Space
Check out the Into Darkness cover of Star Trek magazine
... and find out what old charater has resurfaced in Countdown to Darkness
Jim Carrey and Jeff Daniels are in. And there are a couple of other very juicy roles. I love that guy Channing Tatum and would love to get him in there. Also, there's an excellent role for a young dumb girl. Emma Stone would knock it out of the park.
Keep in mind that neither Tatum nor Stone are actually attached at this point, and both are so busy it's not clear they'd be able to fit the film in even if they wanted to. If Farrelly could actually make it happen, though, that'd be one hell of a lineup. [Reddit via ScreenCrush]
Anchorman 2 is getting closer to shooting, but it's definitely not there yet. Last month, Paul Rudd admitted he didn't know too many details, and now Steve Carell says he "[doesn't] even have the script yet." That's bound to change soon, however, as production is still on track to begin in March for a December 20 opening. [HitFix]
2009's G.I. Joe: Rise of the Cobra wasn't really anything special, but there's reason to hope G.I. Joe: Retaliation will be a little more interesting. In a new interview, director Jon M. Chu talks about the last-minute 3D decision, the attempt to make the property his own, and the film's star-studded cast. Here's a tidbit:
Having Bruce [Willis] be the original Joe was really trippy. You want him to be the original Joe, in every way. If he didn't want to do this movie, we probably wouldn't have Joe in the movie. It was only because we said, "This would be our dream, as a G.I. Joe fan, to have the guy who represents it be the guy who represents all action movies of our generation, growing up." It just worked right. And we have him next to the next generation's action guy. There's not a lot of action heroes anymore, and the guy who's picking up all of that is The Rock. And that's a theme in our movie. At some point, you don't have your laser guns and your spaceships and your hovercrafts, and all that stuff. It's just about the soldier or the ninja, or the person who's fighting the uphill battle, and it's about what's inside. Bruce comes into this movie, as the original Joe, saying, "We didn't have any of that stuff. You don't need all that stuff. We'll go old school, in that way." That was fun, and it helped frame our visual look and style of our storytelling.
Click over to Collider to read the rest. G.I. Joe: Retaliation finally hits theaters March 29.
After years of halting development Halloween 3D got stalled yet again when The Weinstein Co. yanked it from their 2012 calendar last spring. Now director Rob Zombie says the project's dead for good, or at least dead to him.
"I don't think they are doing anything with Halloween at the moment," he said. "That is the last thing that I heard — and I'm definitely not directing it if they ever do go ahead with a third movie." [SciFiNow]
Robert Rodriguez's Mariachi trilogy could turn into a tetralogy. Twenty years after El Mariachi and ten years after Once Upon a Time in Mexico, the filmmaker confirms that he and star Antonio Banderas are considering doing another. "We've gotta to do something. We've gotta do another 'El Mariachi' movie," he said. "We'd always said that, but [we'd shoot it] much later when he's older and rounder."
Unfortunately for Rodriguez, however, the "rounder" part just doesn't seem to be happening. "We've gotta figure something else out, because he's in better shape now than he ever was," he added. In the meantime, look for Rodriguez and Banderas to reteam on Machete Kills. [MTV]
And once you've enjoyed Machete Kills, keep an ear out for updates on Machete in Space. Rodriguez says he isn't sure when it'll come out yet, but he sounds amped for it all the same.
I haven't been asked that question yet so I'm trying to figure out strategically how to answer that. It is very fun to think about, and I'm equally as excited about that as the audience was when I first told them the title. I've paid more attention to it as people have come up to me and said, 'I really want to see "Machete in Space!"' and I'm like, 'Yeah me too,' but I don't know why.
Machete Kills is due out September 13. [MTV]
The official Star Trek magazine has unveiled its splashy new cover featuring Into Darkness stars Chris Pine and Zachary Quinto. Alice Eve is technically there too, but she's relegated to a tiny headshot in the corner.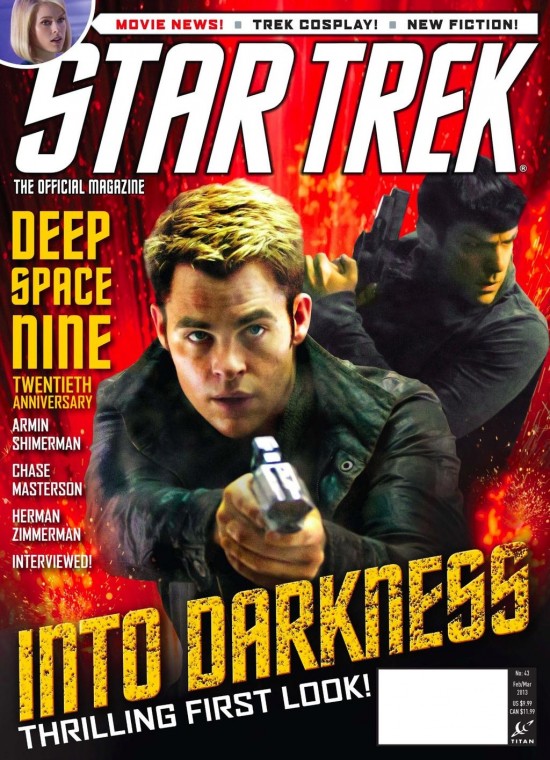 But if you really want some clues about the new plotline, you might want to pick up the comic book prequel Countdown to Darkness. (Major spoilers for the comic book and possible spoilers for the movie follow.)
The new issue features an appearance by a character who'll be familiar to Trek diehards: Robert April, the very first captain of the U.S.S. Enterprise. (Click here to see the panel.) Hence, the latest theory spreading throughout the fandom is that either Benedict Cumberbatch or Peter Weller is playing April.
Adding fuel to that fire is a sketch that HitFix noticed at the Bad Robot offices of Cumberbatch's weapon, which was labeled as "April's Gatling Gun." Has the truth about Cumberbatch's character finally been revealed, or is it just an odd bit of misdirection? Find out when Star Trek Into Darkness opens May 17.