Ron Howard Eyeing Yet Another Potential Directing Gig: 'In The Heart Of The Sea', Starring Chris Hemsworth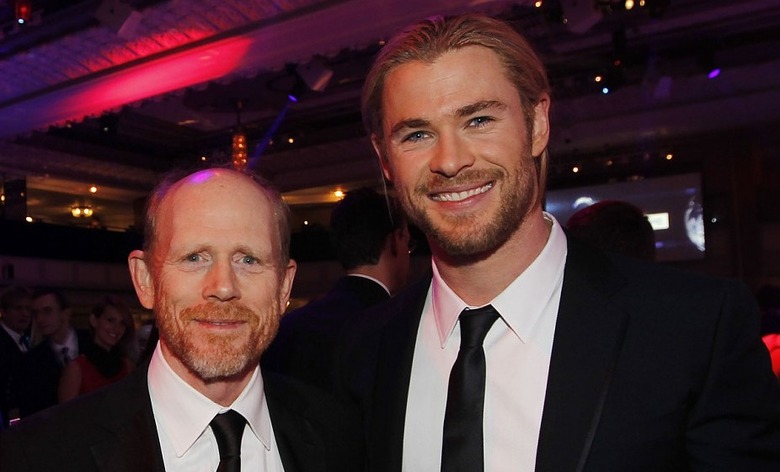 It's not unusual for in-demand filmmakers to consider a few different projects before settling on their next gig, but Ron Howard's really spoiled for choice at the moment. Last week, he attached himself to direct the J.J. Abrams-produced fantasy All I've Got, and just a couple of days ago he entered talks to helm the live-action adaptation of Neil Gaiman's The Graveyard Book. Today, he's adding another movie to his list of possibilities.
Howard is reportedly circling In the Heart of the Sea, based on Nathan Philbrick's book about the whaling voyage that inspired Herman Melville's Moby Dick. The film would reunite Howard with his Rush star Chris Hemsworth, who's been on board to star since last year. More details after the jump.
On the other hand, the same issue of money that's plagued the film for the past several years could wind up sinking it yet again. Seabound tales are famously expensive to shoot, and they don't always pay off at the box office; for every Titanic, there's a Waterworld. (Or maybe Battleship would be the more relevant example right now.) This one sounds rather promising, though, so here's hoping everything works out. Here's a synopsis of Philbrick's book:
The ordeal of the whaleship Essex was an event as mythic in the nineteenth century as the sinking of the Titanic was in the twentieth. In 1819, the Essex left Nantucket for the South Pacific with twenty crew members aboard. In the middle of the South Pacific the ship was rammed and sunk by an angry sperm whale. The crew drifted for more than ninety days in three tiny whaleboats, succumbing to weather, hunger, disease, and ultimately turning to drastic measures in the fight for survival. Nathaniel Philbrick uses little-known documents-including a long-lost account written by the ship's cabin boy-and penetrating details about whaling and the Nantucket community to reveal the chilling events surrounding this epic maritime disaster. An intense and mesmerizing read, In the Heart of the Sea is a monumental work of history forever placing the Essex tragedy in the American historical canon.