Cool Stuff: Two New 'Lord Of The Rings' Posters From Mondo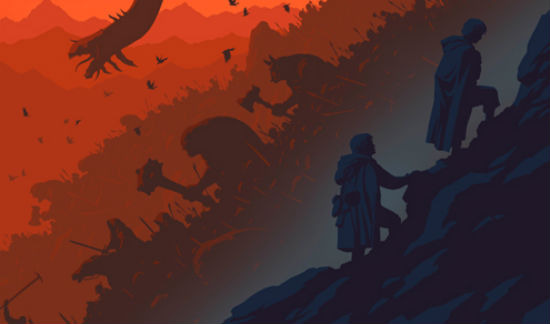 Brand new Lord of the Rings Mondo posters have immortalized one of the best moments in the series and a few of the most memorable characters. Comic book artist, and Mondo virgin, Paolo Rivera has put his spin on the Battle of Pelennor Fields and the simultaneous trek of the One Ring from The Lord of the Rings: The Return of the King while Mike Sutfin, who previously did a poster for Blade 2, has put the evil Nazgul front and center.
Both posters go on sale Thursday January 24 and you can see them after the jump
Here's Paolo Rivera's piece called Precious Cargo and the regular (blue) and variant (silver) of Mike Sutfin's Servants of Sauron.
Precious Cargo is 24"x36" screen print in an edition of 330. It costs $50. Not this is Rivera's first screenprint so it's probably a nice one to pick up.Servants of Sauron is also a 24"x36" screen print. The regular is an edition of 285 and cost $50 while the variant is an edition of 155 and costs $75.
All three go on sale Thursday at a random time by following @MondoNews.