New 'G.I. Joe: Retaliation' Trailer Shows Ninja Action; Four-Minute 3D Preview To Play Before 'Hansel & Gretel: Witch Hunters'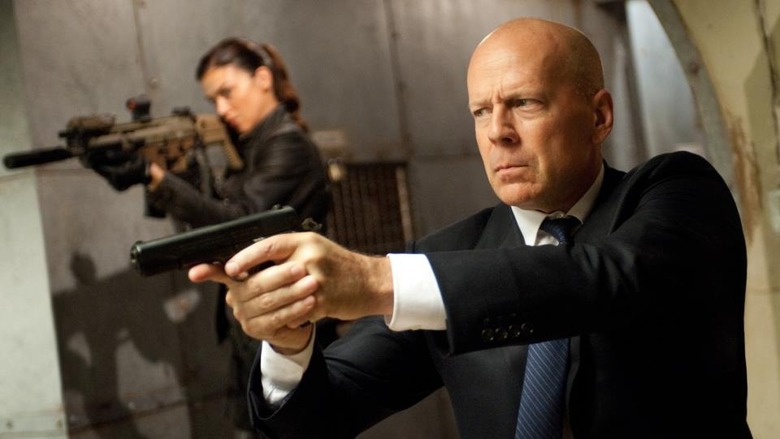 Last spring, Paramount made the surprising decision to delay G.I. Joe: Retaliation by nine months, from June 2012 to March 2013, so that it could be converted to 3D. Now, in just a couple of months, we'll find out whether that costly last-minute change was worth it.
The latest trailer tries to hype up the new 3D with plenty of ninja-tastic action. But to really get a sense of how the whole 3D thing has worked out for Paramount and MGM you may want to buy a ticket to this weekend's Hansel & Gretel: Witch Hunters, as it'll screen with a four-minute 3D preview of G.I. Joe Retaliation. Read more details and watch the new promo after the jump.
Break.com unveiled the new video, which is mostly ninjas gliding around against an extra thumping version of "Seven Nation Army" by the White Stripes. It's not actually in 3D, but it's obviously cut to make you think about how much more awesome everything would look if it were.
Those ninja stars are going to look like they're flying right at your face!
In all seriousness, given the circumstances, it seems better that it's been delayed by nine months instead of nine weeks. While it's still ideal for 3D films to actually have been shot in 3D, good post-conversion jobs are possible if the post-production team has enough time and money. No one is more aware of that than director Jon M. Chu, as he recently explained to Screen Rant. "It was shocking," he said of the studio's decision to shift to 3D. "But at the same time, we'd had long conversations with the studio like, 'If we're going to do this, we need the time to do it right.'"
And there's reason to be cautiously optimistic that G.I. Joe: Retaliation is delivering the goods. Screen Rant, who saw four minutes of the film, wrote that it was "almost impossible that the film wasn't designed for 3D." Those same four minutes (which are part of a longer 10-minute sequence in the film) are what's playing before Hansel & Gretel: Witch Hunters in IMAX 3D and non-IMAX 3D this weekend. Head to PRNewswire to read the full press release about the preview.
Starring Dwayne Johnson, Bruce Willis, Adrianne Palicki, Channing Tatum, and Byung-hun Lee, G.I. Joe: Retaliation drops into theaters March 29.