Sequel Bits: 'Riddick', 'Transformers 4', '21 Jump Street 2', 'Die Hard', 'Mad Max: Fury Road', 'Star Trek Into Darkness', 'Tron 3', 'Insidious Chapter 2'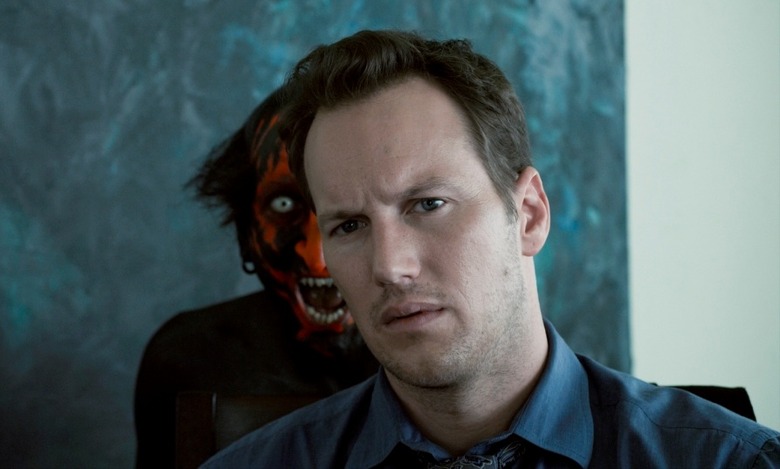 Today's Sequel Bits is jam-packed with quotes, videos, images, and more. After the jump:
Die Hard is getting a permanent mural for its 25th birthday
J.J. Abrams talks Star Trek; what do the comics tell us?
Who wants a walk-on role in Insidious Chapter 2?
Jack Reynor comments on his Transformers 4 casting
Dave Franco would like to come back for 21 Jump Street 2
Bruce Boxleitner is not sure if he's coming back for Tron 3
Katee Sackhoff talks Riddick, Vin Diesel offers a new pic
See the futuristic cars of Mad Max: Fury Road in action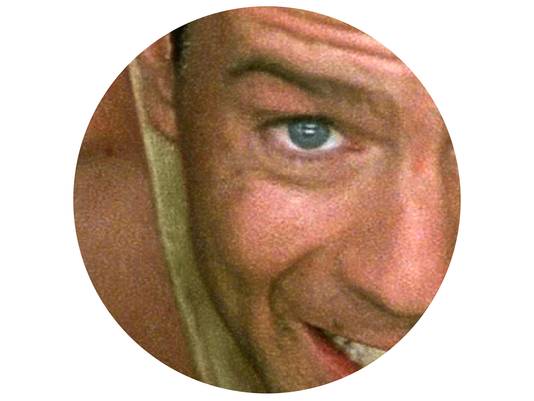 The unveiling ceremony on January 31 will feature an appearance by Willis and his A Good Day to Die Hard co-star Jai Courtney and director John Moore. It'll also include a reception on the 21st floor of the Fox Plaza — or, as Die Hard diehards know it, the Nakatomi Plaza. The next installment of the franchise opens February 14. [USA Today]
Although Star Trek Into Darkness won't be in theaters for another few months, eager fans can prepare for the new film right now with Star Trek Countdown to Darkness. The first issue of the official comic book prequel series has just hit stands, and Movies.com has a good rundown of what that book reveals. IDW publishing will put out a new issue each month — for a total of four — leading up to Star Trek Into Darkness' May 17 bow.
Meanwhile, the Star Trek Into Darkness team is still being pretty vague about plot specifics in their public appearances, but new comments from shed light on the interpersonal dynamics we'll see in action. "In many ways, this film is about a guy who is being tested to earn [his ship]," director J.J. Abrams explained. "There is an insidiousness and ruthlessness and fierce intelligence to [villain John Harrison, played by Benedict Cumberbatch] that almost undermines the interconnectivity of the crew. The stakes are much higher."
Speaking to the same outlet, star Chris Pine expanded on his character Kirk's unique friendship with Spock (played by Zachary Quinto).
The definition of who these two people are definitely comes to bear in this film. It's central to what happens in the story. Spock is a logical man of cold reason who is run by laws, regulations and prescriptions. Kirk is a guttural, by-the-heart, instinctive and impulsive guy. Those two ways of looking at the world are central to these characters and their journey.
Ultimately, Abrams doesn't just want to thrill the audience, he wants to connect with people on an emotional level. Maybe even make them weep.
The goal of this movie is to make you cry. If the movie does its job, then by the end of the movie, you will have had a reaction involving the eyes. If the movie works, then there's definitely an emotional component.
See more at MTV News. [via Comic Book Movie]
Did you like Insidious? Did you like it so much you wished you were part of it? If so, you might be in luck. The filmmakers have just announced a contest for a walk-on role in Insidious Chapter 2, running now through February 4. Let director James Wan, writer Leigh Whannell, and producer Jason Blum explain below:
For more information, visit insidiouscastingcall.com or Facebook. Starring Patrick Wilson and Rose Byrne, Insidious Chapter 2 opens August 30. [via Shock Till You Drop]
Speaking of casting unknowns, Transformers 4 star Jack Reynor has a few things to say about his splashy new role. Speaking at the London Critics Circle Awards, he explained how he landed the part:
It was after a film I was doing, 'The Delivery Man', with Dreamworks. I went through quite a rigorous audition process out in L.A., and after a certain amount of auditions and meetings with different executives, I managed to pull it off.
He also spoke about his character, and the training required to play him.
I'm training very intensely at the moment. I'm going to keep that up until we shoot. I'm going to do some different courses, some different things I need to pick up for the film. My character seems to be a race car driver so I'm going to be doing a couple of driving courses and getting out on the track.
Reynor expressed his excitement for working with co-star Mark Wahlberg and director Michael Bay.
I haven't met [Mark Wahlberg] before, but I'm really excited. He's one of my favorite actors. I just think he's brilliant. I have a huge amount of respect for him as an actor so I can't wait to get on set with him.
I think Michael Bay has his ideas about it and I'm going to go along with him. He seems to know what he's doing.
Reynor has found success in his native Ireland with What Richard Did, Dollhouse, and Chasing Leprechauns, but this fall's Vince Vaughn comedy The Delivery Man will be his first major U.S. role. Transformers 4 hits June 27. [via Comic Book Movie]
There hasn't been much word on casting for the 21 Jump Street sequel, but star Dave Franco really hopes they can use him. Asked whether he would return for the next movie, he replied:
I've heard little things. They claim that I'll be around. Who knows how much they can use me cause I'm in jail at this point, but I'm hoping they can find a creative way to have me be a pivotal part of the story. We'll see.
Franco will next be seen in Warm Bodies, due out February 1. See more of his interview with Collider here.
Also unsure about the future is Bruce Boxleitner, who's expressed some doubts as to whether he'll reprise his role for Tron 3.
I don't know. They say yes, they say no. It's way above my pay grade to be able to tell you that. It's still a money-maker for them (Disney), and it's still a great franchise. They announced it at San Diego Comic-Con, so I'm not speaking out of school here, but it's in development, and development can take a while. We've got to get that creative team back again. I do know they're working on the story concepts and stuff like that.
The only actor confirmed to return at this point is Garrett Hedlund, though one imagines Olivia Wilde would have to come back as well. [via Comic Book Movie]
Anyone who remembers Katee Sackhoff fondly from Battlestar Galactica should be happy to hear she'll be back to her ass-kicking ways in Riddick. "I play Doll, she's a Nordic bounty hunter and she's after Riddick," she explained.
Although she declined to say whether she had any fight scenes with Vin Diesel, she confirmed that the character does "quite a bit of gun shooting and running around." Watch the rest of her interview with IAmRogue here. [via Comic Book Movie]
Doll isn't in the latest still from the movie, but Diesel's Riddick is. Along with a high-tech bike and some serious downpour.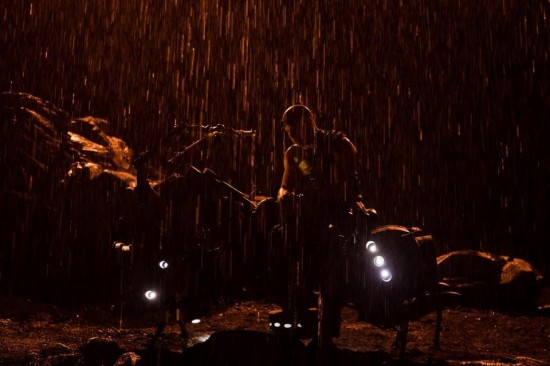 Riddick lands September 6. [Facebook via Screen Crush]
Until Mad Max: Fury Road gets a real teaser, we have this new video of its futuristic vehicles.
Directed by George Miller and starring Tom Hardy, Charlize Theron, and Nicholas Hoult, Mad Max: Fury Road will open sometime next year.