'Ain't Them Bodies Saints' Review: A Modest But Powerful Modern Western [Sundance 2013]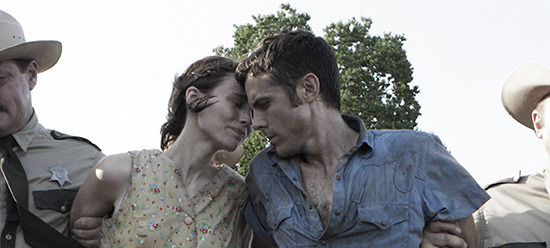 Note: This review originally ran during the Sundance Film Festival in January. It is based on a cut of the film that is slightly different than what opened limited last weekend and expands this week. 
The best way to revitalize a well-worn story concept is often to approach it openly and honestly, but from an unusual angle. That's what writer/director David Lowery does with the ages-old conflict between an outlaw, a lawman, and the woman between them, in the exceptional modern western Ain't Them Bodies Saints.
Casey Affleck, Ben Foster, and Rooney Mara are the people crossed at a crucial point in time. You've heard the story before, or at least seen the setup: one guy pulls a criminal job, and is caught in a fight with sheriff's deputies as a result. His girlfriend is stalwart and sticks with him, even when the consequences of his criminal actions hit hard. But life is complicated, and plans go right to hell.
Deliberately paced and more interested in aftermath than big action scenes, a shorthand caption for Ain't Them Bodies Saints could be "Cormac McCarthy by way of The Assassination of Jesse James By the Coward Robert Ford." Each role is acted with calm precision, and directed with a measured hand. Lowery never falls to the temptation of overplaying a scene. It is one of the best films I've seen at Sundance 2013, and a must for fans of the slow burn or directors Andrew Dominik and John Hillcoat.
Bob and Ruth (Affleck and Mara) are a couple living just outside society. She's discontented, but pregnant, and accepts Bob's promises of an impending upswing in their fortune. But his economic aspirations are criminal, and a job goes wrong. Soon Bob, his brother, and Ruth are holed up in the boys' broken-down family home, staring down half a dozen deputies loaded for bear. Then there's prison for Bob, and a long period of devoted, lonely, worried motherhood for Ruth.
Meanwhile, Ben Foster, in a masterfully controlled appearance, slowly fades in from the margins. His take on the classic well-meaning sheriff deputy ends up being the film's strongest asset.
The script is a lesson in providing exposition and backstory without cramming actors' mouths full of unnatural junk. Keith Carradine excels as Ruth's next-door neighbor and Bob's surrogate father, but the writer/director gives him a big assist. A lesser film would saddle Carradine with a page or two detailing his role in Bob's life, but here it plays out naturally; we're left to assimilate everything we need to know. (And Nate Parker, in another of the film's fine supporting turns, gives us some additional info as he plays one of Affleck's old confidantes.)
That intuitive storytelling is Bodies' stock in trade. There are more middles here than beginnings or endings, but that's where working with a stock setup pays off. I appreciate the gaps in the narrative — nothing big enough to drive a truck through, or even a mule — as they leave the film room to breathe. Lowery doesn't have to spell everything out, because we already know the structure. He gives the audience a specific experience, and a strong emotional journey tracing Ruth's path to maturity. He does not offer omniscience, nor full disclosure.
And so, as with the approach taken to providing backstory through Carradine, the film allows three bounty hunters to enter the narrative with little fanfare, understanding full well that we can tell more or less what they're up to. And when the bullets really start to fly, our own suspicions are confirmed, and the film wins a victory by letting the audience feel like we figured everything out.
/Film rating: 8.5 out of 10