Sundance Buys: Fox Searchlight For Jim Rash And Nat Faxon's 'The Way Way Back' As Sony Grabs 'Austenland'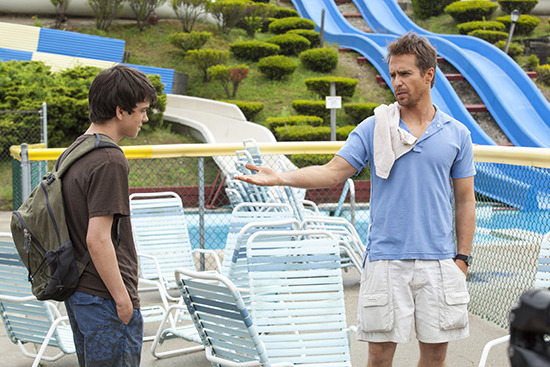 Yesterday at Sundance Jim Rash and Nat Faxon premiered their film The Way Way Back. The Descendants writers penned the film several years ago, and only made it last year. The coming of age comedy is set in a Massachusetts seaside town , and features quite a cast: Sam Rockwell, Steve Carell, Toni Collette, Maya Rudolph, and Rob Corddry make up the key ensemble, and relative newcomer Liam James plays the young man Duncan, who is trying to deal with his mom's douchy new boyfriend (Carell) as they spend summer at his family beach house.
After the screening many people commented that the film seemed like an obvious buy for Fox Searchlight. It has that easy and appealing blend of dialogue-based humor and slight pathos that tends to make a hit. Germain vocalized a similar notion in his review.
And now Searchlight is said to be close to a $10m deal to pick up the movie. If the deal goes through, Searchlight will have beat out Lionsgate, FilmDistrict, Paramount Pictures, and Warner Bros. in a sale that Deadline calls "one of the most spirited auctions in recent Sundance memory." It would also be one of the priciest deals ever for the fest.
After the break, Austenland and Concussion get distribution deals, and several docs get distribution, too.
Sony Pictures Worldwide Acquisitions picked up Jerusha Hess' Austenland, which Pete discussed a couple days ago after its Sundance debut.Sony Pictures Classics will release the film in the States. No date has been announced.
And Radius-TWC picked up the midlife crisis thriller Concussion, described by the company as:
Written and directed by Stacie Passon in an auspicious directing debut effort, and produced by Rose Troche, CONCUSSION is a poignant sexual examination of Abby (Robin Weigert in a star making breakout turn), a forty something married wealthy, lesbian housewife who, after suffering a blow to the head from getting smacked by her son's baseball—walks around every corner of her suburban life to confront a mounting desire for something else. She takes on a new project and purchases a pied-à-terre in Manhattan. Walking around the city streets reminds Abby what it feels like to be sexy, and her pent-up libido shakes off its inhibitions. Her newfound desire though is not a take-home item, so Abby inaugerates a double life as a high end escort.  Palpably sensual and deliciously contained, CONCUSSION is a keen observation of the complicated contours of midlife crisis.
I'm seeing Concussion tomorrow, and will have a report after that screening.
Finally, CNN has announced plans for a 2014 debut of the Roger Ebert documentary Life Itself, from executive producers Martin Scorsese and Steve Zaillian. The film is based on Ebert's memoir, and is in production now. There will be a theatrical release before the cable showing.
CNN's recently-launched theatrical documentary label is also at Sundance looking to buy projects, and has picked up an untitled documentary about the aftermath of the September 11, 2001 attacks. Michael Tucker and Petra Epperlein are co-directing, and "plan to examine some of the striking photography from 9/11 and its aftermath to look at how the images became part of the national healing process." [Deadline]