Sundance Acquisitions: 'Austenland', 'The Look Of Love', 'The Spectacular Now', 'The Rambler', And More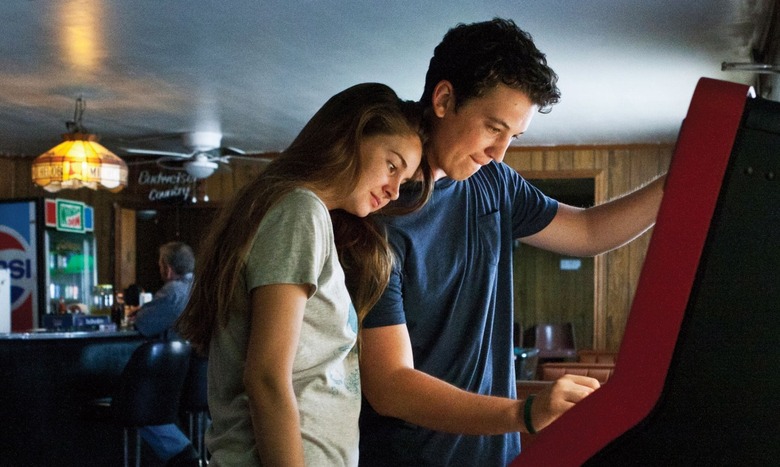 A few days after the kickoff the 2013 Sundance Film Festival, deal-making is in full swing. The well-reviewed drama The Spectacular Now, by Smashed director James Ponsoldt, is headed to newish distributor A24, while the crowdpleasing comedy Austenland, from Napoleon Dynamite writer Jerusha Hess, is nearing a deal with FilmDistrict. Michael Winterbottom and Steve Coogan's The Look of Love had a mixed reception, but that's not stopping IFC Films from closing in on a deal; the distributor also released the pair's last comedy together, The Trip. Meanwhile, Anchor Bay has picked up two narrative features so far, the Dermot Mulroney-starring The Rambler and Leland Orser's Morning. (The latter is not playing at Sundance.)
Over in the world of documentaries, music-centric films seem to be doing quite well. Showtime has acquired the broadcast rights to the two-part documentary History of the Eagles, which will air on the channel February 15 & 16. Also headed to television is Pussy Riot — A Punk Prayer, which has been snapped up by HBO Documentary Films. Finally, Twenty Feet From Stardom, which follows some of popular music's greatest backup singers, will get a theatrical release by RADiUS-TWC. And in non-music news, AMC's Sundance Selects has grabbed Dirty Wars, about America's covert wars, and The Summit, about climbers scaling the most dangerous peak in the world.
Hit the jump to read descriptions of the films mentioned above.
Austenland, directed by Jerusha Hess, starring Keri Russell, JJ Feild, Bret McKenzie, and Jennifer Coolidge
Jane's life-size paper doll of Mr. Darcy and her "I Love Darcy" tote may be tattered, but even in her thirties, she hasn't grown out of her obsession with all things Jane Austen. Careworn by love, she saves enough to fulfill her dream of stepping into Austen's world and heads to Austenland for an "immersive" vacation to eschew all things modern. And it couldn't be more perfect. There's an imposing manor with verdant grounds for afternoon promenades, rosy-faced servants, trusty steeds for hunting expeditions, gilded drawing rooms for evenings spent in polite conversation, and, yes, gallant young suitors. Unfortunately, due to limited funds, she's relegated to lesser quarters and drearier costumes than fellow bachelorette guests, but her cares melt away as she catches the eye of a young footman, and she's swept into a romantic adventure she could never have imagined.
The Look of Love, directed by Michael Winterbottom, starring Steve Coogan, Anna Friel, Imogen Poots, and Tamsin Egerton
Welcome to the scandalous world of Paul Raymond, entrepreneur, impresario, and the "king of Soho." Seeing mediocrity in the smutty sex parlors of London, Raymond unveils his first "gentlemen's club" in 1958 and gradually builds an empire of clubs and erotic magazines that brings him vast wealth while affronting British sexual mores. It also brings a litany of obscenity charges, a failed marriage, troubled children, and personal tragedy.
Morning, directed by Leland Orser, starring Jeanne Tripplehorn, Laura Linney, and Elliott Gould (description via Deadline)
Morning follows the divergent paths of Mark and Alice Munroe as they circle each other in heart-breaking grief before finally coming to grips with their shared loss. Kyle Chandler, Jason Ritter, Charlie McDermott and Julie White. Morning was produced by Todd Traina through his Red Rover Films shingle and Orser wrote the screenplay.
The Rambler, directed by Calvin Lee Reeder, starring Dermot Mulroney, Lindsay Pulsipher, and Natasha Lyonne
Upon release from prison, a solitary man known only as "the Rambler" embarks on a mysterious journey en route to reconnecting with his long-lost brother. Traversing treacherous back roads, lost highways, and isolated small towns, he unearths a multitude of bizarre and wickedly depraved slices of Americana.
The Spectacular Now, directed by James Ponsoldt, starring Miles Teller, Shailene Woodley, and Brie Larson
Sutter Keely lives in the now. It's a good place for him. A high school senior, charming and self-possessed, he's the life of the party, loves his job at a men's clothing store, and has no plans for the future. A budding alcoholic, he's never far from his supersized, whisky-fortified 7UP cup. But after being dumped by his girlfriend, Sutter gets drunk and wakes up on a lawn with Aimee Finicky hovering over him. Not a member of the cool crowd, she's different: the "nice girl" who reads science fiction and doesn't have a boyfriend. She does have dreams, while Sutter lives in a world of impressive self-delusion. And yet they're drawn to each other.
Dirty Wars, directed by Richard Rowley
It's the dirty little secret of the War on Terror: all bets are off, and almost anything goes. We have fundamentally changed the rules of the game and the rules of engagement. Prior to 9/11, it was customary for America to sound a formal declaration of war on a given country before attacking. Today drone strikes, night raids, and U.S. government–condoned torture occur in hidden corners across the globe, generating unprecedented civilian casualties. Investigative reporter Jeremy Scahill traces the rise of the Joint Special Operations Command (JSOC), the most secret and elite fighting force in U.S. history, exposing covert operations carried out by men who do not exist on paper and will never appear before Congress. No target is off-limits for the JSOC "kill list," even if the person is a U.S. citizen.
History of the Eagles, directed by Alison Ellwood
Alison Ellwood's intimate, meticulously crafted patchwork of rare archival material, concert footage, and unseen home movies explores the evolution and enduring popularity of one of America's truly defining bands.
Pussy Riot — A Punk Prayer, directed by Mike Lerner and Maxim Pozdorovkin
In the winter of 2011, after a controversial election, Vladimir Putin was reinstalled as president of Russia. In response, hundreds of thousands of citizens rose up all over the country to challenge the legitimacy of Putin's rule. Among them were a group of young, radical-feminist punk rockers, better known as Pussy Riot. Wearing colored balaclavas, tights, and summer dresses, they entered Moscow's most venerated cathedral and dared to sing "Mother Mary, Banish Putin!" Now they have become victims of a "show" trial.
The Summit, directed by Nick Ryan
Although K2 is only the second-highest peak in the world, it is renowned as the most dangerous and revered by mountaineers as their ultimate challenge. In August 2008, 18 of 24 climbers reached the summit of K2. Forty-eight hours later, 11 people were dead. What happened on that fateful day has never been resolved.
Twenty Feet From Stardom, directed by Morgan Neville
What would a pop song be without the riffs, refrains, and harmonies of its backup vocalists? Although these singers are usually relegated to the margins, and few, if any, become household names, their work has defined countless songs that remain in our hearts and collective consciousness. Twenty Feet from Stardom juxtaposes interviews with industry legends (Bruce Springsteen, Bette Midler, and others) and the relative unknowns who support them like Darlene Love, Merry Clayton, Lisa Fischer, and Judith Hill as they illuminate the art of melding their own distinct voices with lead vocals and reveal their desires for careers as solo artists.
[Source: Deadline]