Charlie Hunnam Looking To Reunite With Guillermo Del Toro On 'Crimson Peak'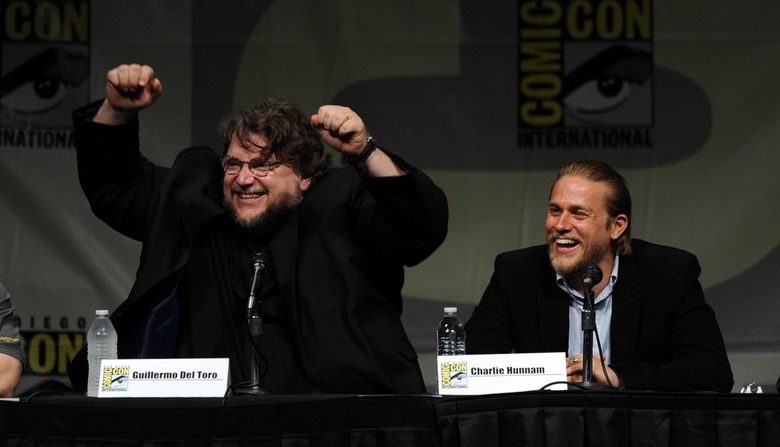 With five films together in twenty years, it's no secret that Ron Perlman is one of Guillermo Del Toro's favorite actors. But now it looks like another Sons of Anarchy star has joined the Hellboy director's favorites list.
Pacific Rim star Charlie Hunnam has just entered negotiations to board Crimson Peak, the haunted house tale that will be Del Toro's next project. Hunnam joins Emma Stone, who was reported as being in talks just a few days ago. Hit the jump to read more.
To me [the classic old haunted house movie] is Robert Wise's The Haunting, which was a big movie, beautifully directed, with the house built magnificently. And the other grand daddy is Jack Clayton's The Innocents. I've always tried to make big sized horror movies like the ones I grew up watching. Films like The Omen, The Exorcist and The Shining, the latter of which is another Mount Everest of the haunted house movie. I loved the way that Kubrick had such control over the big sets he used, and how much big production value there was. I think people are getting used to horror subjects done as found footage or B-value budgets. I wanted this to feel like a throwback.
Don't expect it to be too old-fashioned, however. In the same conversation, he also revealed, "[Crimson Peak] will allow me to play with the conventions of the genre I know and love, and at the same time subvert the old rules." The original script comes from Del Toro and Matthew Robins, and is now undergoing a rewrite with Del Toro and Lucinda Coxon.
We really have no idea at this point what roles Stone and Hunnam will play, but I'd consider both of them to be strong additions to just about any cast. Not to mention that anything by Del Toro is bound to be worth a look. The only downside to all this great news is that Crimson Peak won't get going for some time yet — production is scheduled to begin in February 2014.
Hunnam and Del Toro's first project together, Pacific Rim, opens July 12.
[Source: Variety]