'Crystal Fairy' Review: Michael Cera Quests For An Ecstatic Drug Trip [Sundance 2013]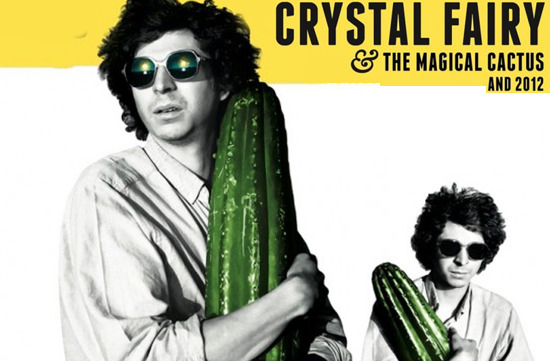 Michael Cera has crafted a recognizable outsider persona since his breakout gig on Arrested Development, and this latest role hones the edge of his gawky, lovelorn screen ego from brightly earnest towards something more viciously awkward. In Crystal Fairy Cera looks like Gene Wilder playing Abbie Hoffman, and he gives his funniest adult performance by dropping all self-conscious comic pretense.
At a house party somewhere in Chile, Jamie (Cera) takes drugs and retreats into the bathroom, where he comes face to face with 'The Garden of Earthly Delights' by Hieronymus Bosch. The wild triptych points to the few days ahead, in which a quest for an elusive psychoactive cactus will lead Jamie to understand what an ass he can be. That might not sound like a lot of fun, but the odd, meandering Crystal Fairy has a loopy honesty paired with the uncomfortable laughter Cera provokes throughout. And Gaby Hoffmann, known to fans of Uncle Buck, Field of Dreams, and Sleepless in Seattle, gives an all-out provocative performance. 
Back to the party. By the point Jamie is attempting to flush an errant turd while staring down Bosch's vision — a moment that lays out the film's interest in combinations of the spiritual and the profane — we already know the guy is a dick. He's loud, boorish, and pushy; his personal discomfort manifests as manic drug enthusiasm and casual misogyny. The drugs are a smokescreen, a way to play-act making connections with other people while really remaining isolated in his own bubble.
For some reason he's got a friend in Champa (Agustín Silva), a genuinely kind and cool local who ropes in his two younger brothers (real-life siblings José Miguel Silva and Juan Andrés Silva) for cactus quest.
But this isn't just a boys' trip, as the same party sees Jamie face to face with another unusual vision: a dancing hippie girl named Crystal Fairy. When they meet Jamie tries to establish a casual dominance over the girl, telling her straight up that her dancing is embarrassing her. She throws it right back at him. "You really mean it is embarrassing you." Her confidence turns him on, and soon he's inviting her along for the road trip. The next day, to his sober chagrin, she accepts.
Like other road fables before it, this picture spends a lot of time just roaming around watching the characters interact; I thought more than once of Gus Van Sant's Gerry. In fact, while the common title for this movie is just Crystal Fairy, the full title, spelled out in an attention-getting animated opening, is Crystal Fairy & The Magical Cactus and 2012. Just as that indulgent name suggests, the film links together several kooky situations, but it becomes a lot more than a Tumblr of strange delights.
Gaby Hoffmann, perhaps still a child star in the memories of people who met her in Uncle Buck, glows with a strange and irresistible energy as the very adult Crystal Fairy. The character is an extreme hippie caricature: eagerly spiritual, proudly unshaven, and often unselfconsciously naked. Hoffman revels in the character's unconventional energy and she ignites the film, despite the fact that Crystal's arms-open embrace of the world can be tiresome.
It's clear that Crystal is weighed down by her own secrets. Some glimmers of a past life flash through here and there, and there is a mounting tension as she brings out Jamie's worst dudebro tendencies and they grate against one another during the trip. Yet the two may have more in common than Jamie would like to admit. As they travel through the arid beauty of the Atacama Desert, the resolution of their little conflict is impossible to predict.
Not that the film is a thriller, but it is constantly unpredictable and willing to digress into episodic scenarios. (For example, a drunk and drugged Jamie becomes enamored with a couple of transvestite prostitutes, but the resulting scene plays out as a gently comic moment of culture clash rather than a stereotypical sexual misadventure.)
The Silva brothers serve as shepherds, keeping the film on track and Jamie and Crystal on their collision course – especially once they've drunk a boiled San Pedro cactus and the mescaline within has started to kick in. While Crystal Fairy does veer away from a straight narrative line, it also builds to an off-kilter climax that forces the central couple to face each other and deal with their manufactured identities. The revelations get serious and weird, but writer/director Sebastián Silva doesn't let the film's minor magic dissolve.
(Crystal Fairy is the first of two films that Sebastián Silva made in Chile with Michael Cera and Agustín Silva; the other is Magic Magic, which also premieres this year at Sundance, on Jan 22.)
/Film rating: 7 out of 10