'Spring Breakers' Trailers: Let's Cause Some Trouble Now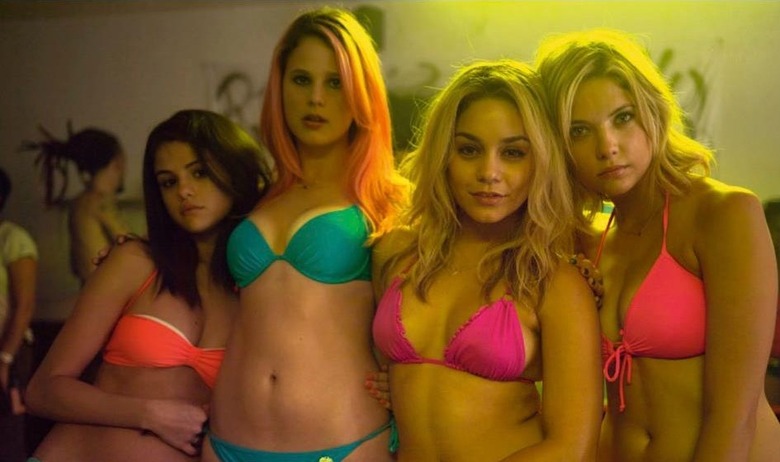 Even before its debut at Venice last fall, Harmony Korine's Spring Breakers was attracting attention for its unexpected cast and wild premise. Former Disney gals Vanessa Hudgens and Selena Gomez star with Rachel Korine and Ashley Benson as longtime pals desperate to get out of their boring college town. They hatch a plan to rob a convenience store, and then use the cash to head to Florida and party all day in skimpy neon bikinis. But the police eventually get the jump on them, and the girls are arrested.
Enter James Franco's Alien, flashing a totally ridiculous grill and even more absurd-looking cornrows. The drug kingpin/rapper bails the girls out of jail and convinces them to join his crew, promising all the debauchery and adventure they could ever ask for. Watch the trailers after the jump.
There's some novelty in seeing Gomez and Hudgens don skimpy clothing and wave around guns, but the freakish Alien somehow seems right up Franco's alley. Apparently, he wears the part well. He's drawn quite a bit of praise for his performance, even sparking talk of a potential Best Supporting Actor campaign.
Korine has a reputation for pushing the envelope, and there's no doubt Spring Breakers takes pride in its hedonistic weirdness. But opinions on whether it's a genuinely provocative movie, or just a movie that plays at edginess, have been mixed. Variety and THR weren't impressed — the former called it "toothless titillation" and the latter "thematically empty." On the flip side, We Got This Covered found it to be "ludicrous amounts of fun," and Hollywood.com praised it as "challenging." Either way, most everyone seems to agree that it's Korine's most accessible film.
Spring Breakers gets a limited release right around actual spring break, on March 22.