Dominic Cooper To Play James Bond Creator Ian Fleming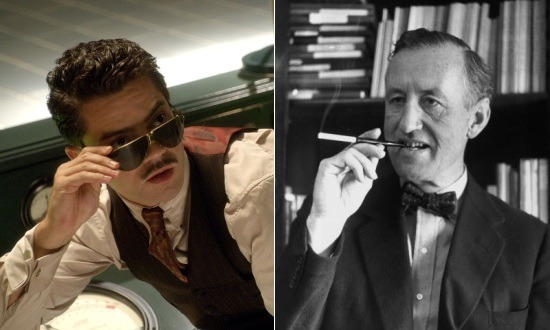 The $1 billion worldwide box office take for Skyfall is proof positive that affection for James Bond is alive and well. It only makes sense, then, that there are now plans in place to highlight the man who invented him. Dominic Cooper has signed on to play Bond author Ian Fleming in a four-episode British miniseries tentatively titled Fleming. He's joined by Annabelle Wallis, who'll play rumored Bond Girl inspiration Muriel Wright.
While some authors are more adventurous on the page than in real life, Fleming was by most accounts the basis for his famed creation. Many of Bond's daring escapades were inspired by Fleming's own experiences in intelligence. And also like Bond, Fleming was notorious for boozing and womanizing. Read more after the jump.
Although Fleming is best remembered for his books, his life story would've been an interesting one even without them. Born into a wealthy, well connected family, Fleming worked in journalism and finance as a young man before he was recruited for the Royal Navy at the start of World War II. He had a successful career in the intelligence division, forming his own unit of commandos. He returned to journalism once the war was over, and then a few years later began work on the first Bond novel, Casino Royale.
Wright met Fleming in the '30s, and the two began a passionate affair that lasted nine years. Though he had been unable to commit to a monogamous relationship with her, he was reportedly torn with grief and guilt after her death in a London air raid in 1944. She has been called the archetypal Bond Girl, though of course Fleming would go on to have many more romances after her.
Sky Atlantic's Fleming is only one of several recent attempts to get the writer's tale to the screen. As of last year, Duncan Jones was attached to direct a feature, also titled Fleming, based on a biography by Andrew Lycett. A few years before that, Leonardo DiCaprio's Appian Way was developing another incarnation. Probably the most recent portrayal of Fleming was James D'Arcy's in 2011's Age of Heroes, which was about Fleming's 30 Commando unit. Fleming has also previously been played by Jason Connery (Sean's son) and Charles Dance in TV movies.
Cooper was last seen in Abraham Lincoln: Vampire Hunter, and will next star with Colin Farrell and Noomi Rapace in Niels Arden Oplev's Dead Man Down. A couple of months ago, he joined Aaron Paul in Need for Speed, based on the video game franchise. Wallis has appeared in Pan Am and The Tudors. She recently wrapped the BBC series Peaky Blinders, co-starring Cillian Murphy.
[Additional source: Deadline]