Brian De Palma And Al Pacino To Reunite For Joe Paterno Biopic 'Happy Valley'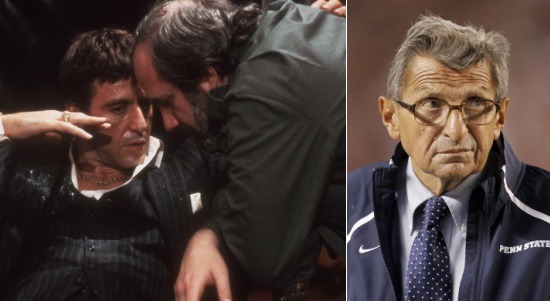 Twenty years after Carlito's Way and thirty years after Scarface, Brian De Palma and Al Pacino are reuniting to tell the tale of a very complicated man. The pair have just signed on for Happy Valley, a drama about late, disgraced Penn State coach Joe Paterno. Dave McKenna (American History X) is nearing a deal to write a script based on the bestselling biography Paterno, by Joe Posnanski. Hit the jump for more details.
Pacino has been attached to play Paterno since Posnanski's biography was being shopped around last fall, but I believe this is the first we're hearing about De Palma's potential involvement. The filmmaker's track record has been hit or miss in recent years (his latest, Passion, falls into the latter category), but between his reunion with Pacino and the rich premise, Happy Valley has a lot of potential. Deadline describes the true story as "Shakespearean," and indeed it's tough to imagine the Bard himself topping this tale.
At this point, we don't have many details about what angle De Palma, McKenna, and Pacino will take. There are defenders who see Paterno as an essentially good man brought down by his own hubris, and others who decry him as a greedy monster. What's certain, however, is that Paterno's once-gleaming legacy has been irretrievably tarnished. And that no matter what, this film is bound to attract attention and controversy.