TV Bits: 'Game Of Thrones', 'Downton Abbey', 'Happy Endings', 'The Killing', 'Hannibal', 'Fringe', Nick Offerman, Stephen King, And More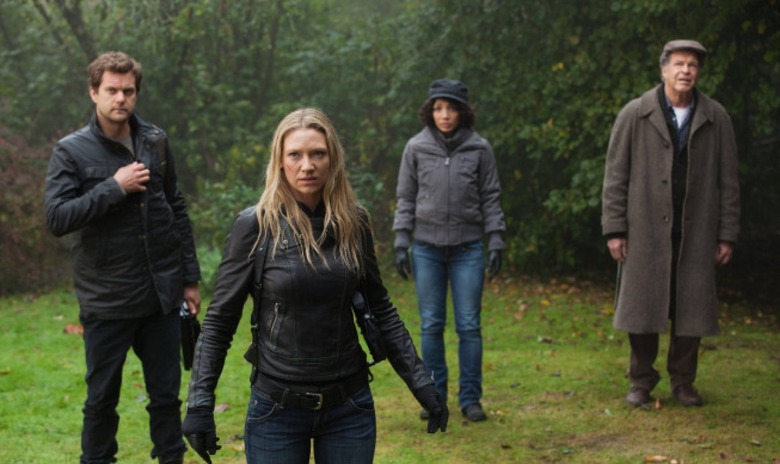 Steel yourself for the very end of Fringe with a new trailer and poster. Also after the jump:
The Killing is officially returning to AMC for a third season
Happy Endings and Don't Trust the B get pulled from Sundays
Who noticed that the Twin Towers were missing on The Carrie Diaries?
Battlestar Galactica's Ron Moore is returning to Syfy with Helix
iTunes will offer Downton Abbey a little early; Maggie Smith will return
We Bought a Zoo's Colin Ford joins Stephen King's Under the Dome
Hannibal casts Aliens star Lance Henriksen in a guest spot
See the premiere of the Childrens Hospital spinoff Newsreaders
Nick Offerman fantasizes about the presidency on Axe Cop
A new video goes behind the scenes of Game of Thrones Season 3
Not all of the familiar characters from Seasons 1 and 2 will return for the new storyline, but a handful of new ones will arrive to take their place. Those include a death-row murderer, an ex-partner of Linden's, and the young mother of a missing girl. Production begins next month. [TV Line]
I have my doubts that ABC ever really thought Happy Endings or Don't Trust the B— in Apartment 23 would do well on Sunday evenings, but apparently the shows have fared even worse than expected. ABC is now pulling both comedies from its Sunday lineup. Starting next week, we'll go back to getting just one new episode a week on Tuesdays. [Deadline]
No one in their right mind would expect the Sex and the City prequel The Carrie Diaries to be an accurate representation of '80s New York, but one particular inaccuracy has drawn quite a bit of attention. Although the series is set almost two decades before the 9/11 attacks, the Twin Towers are nowhere to be seen in the show's skyline.
In a conversation with the LAT, producer-writer Amy Harris defended the decision to leave the buildings out. "We definitely did think about it," she said. However, "Our show is about love and romance. It felt like the wrong place to acknowledge it." Still, Harris had apologies for those who disagreed with her choice. "We didn't want to cause anybody hurt," she said. "If we caused one 16-year-old who lost a parent in September 11 any pain ... it would have made me feel terrible." Read more here.
Ron Moore has had some trouble getting his post-Battlestar Galactica series to stick, but maybe he'll have better luck now that he's returning to Syfy. The TV maker is nearing a deal for a 13-episode order of his new series Helix, a dark thriller about a group of scientists. While investigating a disease outbreak at an Arctic research facility, they find that the bug has the potential to annihilate humanity. [Deadline]
American Downton Abbey fans can catch the end of Season 3 a little earlier than PBS has planned, provided they don't mind shelling out for an iTunes season pass. The online retailer will make the entire season available on January 29. Those sticking with PBS will have to wait until February 17 to see how the season ends. [Deadline]
Meanwhile in the U.K., the pieces are coming together for Season 4. Executive producer Gareth Neame confirmed that Maggie Smith will be returning for the next season, along with most of the other Season 3 cast members. Thank God — Downton just wouldn't be the same without her cutting quips. [TV Line]
CBS' Stephen King-based Under the Dome has found its first star. Colin Ford (Supernatural, We Bought a Zoo) has just been cast as Joe, a smart kid who's separated from his parents when a mysterious dome closes off the town of Chester's Mill from the rest of the world. The 13-episode series (or 13-episode first season of the series — it's not totally clear) will air later this year. [Deadline]
Lance Henriksen has already faced the Terminator and the Alien Queen, and now he's about to cross paths with Hannibal Lecter. The sci-fi star has signed on for a one-episode guest role on Hannibal, Bryan Fuller's Silence of the Lambs sorta-prequel. NBC's keeping quiet for now about just who Henriksen will play, which may or may not mean they're hiding something really juicy. [TV Line]
Until now, Newsreaders has only existed as show-within-a-show from Childrens Hospital. But starting this week, it'll be an actual show. Adult Swim has uploaded a preview of spinoff's premiere, and you can check it out below.
Newsreaders bows January 17. [via Vulture]
Of all the shows Fox has lined up for their Animation Domination High Definition comedy block, the one I'm most eagerly looking forward to is Axe Cop. Nick Offerman voices the titular hero, who along with his partner Flute Cop does things like stop Hitler's zombie robot army. A new short offers an idea of the kind of humor and badassery we're in for, as Axe Cop explains what he'd do if he were president.
Also featuring the voices of Megan Mullally, Patton Oswalt, Ken Marino, and Peter Serafinowicz, Axe Cop debuts July 27. [via Screen Crush]
HBO still hasn't offered any real footage from Game of Thrones' third season, but a behind-the-scenes video offers glimpses of new characters like Ciaran Hinds' Mance Rayder and Diana Rigg's Olenna Redwyne. It also gives us some insight on just how the show manages to keep all these characters and sprawling storylines stright.
Game of Thrones' third season begins March 31. [via Coming Soon]
After five seasons, Fox's Fringe comes to a close this weekend with what looks like a very emotional two-hour series finale. You may want to stock up on tissues. But first, check out the new trailer and poster for the episode below.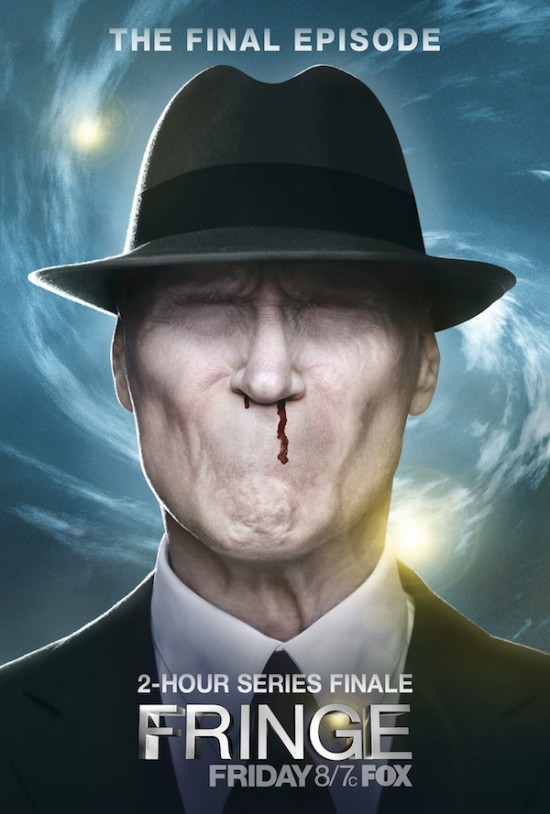 Fringe ends this Friday, January 18. [via HuffPo, Coming Soon]