'The Croods' Sneak Peek: 'How To Train Your Dragon' And 'Lilo & Stitch' Co-Director Chris Sanders Goes Prehistoric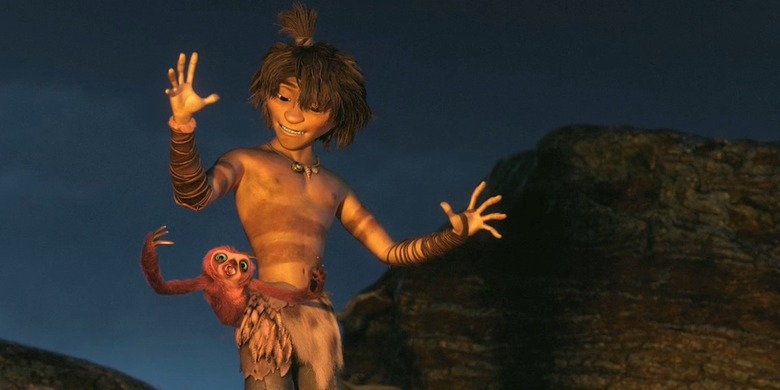 DreamWorks Animation doesn't have quite the consistent track record that Pixar does, but when they get it right, they really get it right. Kung Fu Panda and How to Train Your Dragon have been among the best non-Disney animated features in recent years, and Madagascar is the rare franchise that seems to be improving with each installment.
Their next project combines Dragon co-director Chris Sanders and Space Chimps writer-director Kirk De Micco with a star-studded cast (Emma Stone, Nicolas Cage, Ryan Reynolds, etc.) to tell the tale of a prehistoric family venturing out of their cave to explore the strange, colorful world outside. Check out a new sneak peek after the jump.
[via Coming Soon]
If the second trailer for The Croods placed a greater emphasis on the film's comedic aspects than the first one did, this sneak peek seems to be nothing but the jokes. Thankfully, the gags range from inoffensive to genuinely funny. I really can't get enough of Belt (the slothlike creature hanging out with Caveman Ryan Reynolds) making the dramatic noise.
So-called "all ages" entertainment often struggles to attract both children and adults. But The Croods seems to find a pleasant middle ground, and based on all the promos we've seen so far Sanders and De Micco seem to do a fine job of combining heart and humor. Not that I'm totally surprised — Sanders previously pulled off the same tricky balancing act as the co-director of Dragon and Lilo & Stitch.
The Croods will come into our world on March 22. Clark Duke, Cloris Leachman, and Catherine Keener also star.
Synopsis:
The Croods is a prehistoric comedy adventure that follows the world's first family as they embark on a journey of a lifetime when the cave that has always shielded them from danger is destroyed. Traveling across a spectacular landscape, the Croods discover an incredible new world filled with fantastic creatures — and their outlook is changed forever.