Alfonso Cuaron's 'Gravity' Will Take Flight In October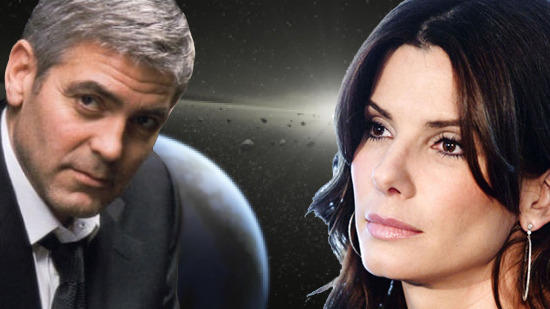 Alfonso Cuaron's latest, Gravity, is back on the map. After having a 2012 release date and then being pushed into this year, Warner Bros. has now dated the George Clooney/Sandra Bullock sci-fi thriller for October 4. It'll open against Robert Rodriguez's Sin City: A Dame to Kill For, Star Wars Episode III: Revenge of the Sith 3D, Harrison Ford and Liam Hemsworth in Paranoia and Vince Vaughn's latest, The Delivery Man.
In Gravity, Bullock and Clooney play two astronauts stranded in space when their ship is destroyed. It'll also be released in IMAX. 
Here's the official plot description of Gravity, one of our most anticipated films of the year.
Sandra] Bullock plays Dr. Ryan Stone, a brilliant medical engineer on her first shuttle mission, with veteran astronaut Matt Kowalsky [George Clooney] in command of his last flight before retiring. But on a seemingly routine spacewalk, disaster strikes. The shuttle is destroyed, leaving Stone and Kowalsky completely alone–tethered to nothing but each other and spiraling out into the blackness.
The deafening silence tells them they have lost any link to Earth...and any chance for rescue. As fear turns to panic, every gulp of air eats away at what little oxygen is left.
But the only way home may be to go further out into the terrifying expanse of space.
Thanks to Box Office Mojo for the info. Read much more about Gravity, including test screening thoughts, some of its innovations and original delays in our Gravity archive.