SXSW Programs 'Burt Wonderstone' As Opening Film, Also Schedules 'Evil Dead,' 'Downloaded,' And 'Bates Motel' Pilot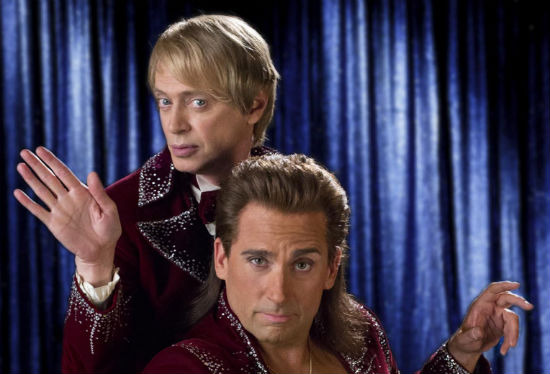 The next big festival after Sundance is SXSW, right here in Austin, TX. The fest runs from March 8-16, and has just announced the opening night film, as well as a few other selections. The Incredible Burt Wonderstone is the opener, and stars Steve Carrell as as "a Las Vegas magician who splits from his longtime stage partner (Steve Buscemi) amid competition from an edgy upstart (Jim Carrey)." Watch the trailer here.
The film, directed by Dan Scardino, opens wide shortly after, on March 15.
More film announcements, including the premiere of Evil Dead, are below.
Fede Alvarez's remake of Evil Dead (trailer) has been confirmed for the lineup, as has Joe Swanberg's Drinking Buddies, which stars Olivia Wilde, Jake Johnson, Anna Kendrick, and Ron Livingston in a story about a man and a woman, both in relationships, who get into a little action of their own thanks to their beer-fueled jobs at a Chicago brewery.Alex Winter's documentary Downloaded (trailer), which follows the rise and fallout of Napster, will play as well, and The Wrap says that Harmony Korine's Spring Breakers will show up, too.  Also playing will be Good Ol Freda, a film about The Beatles' secretary Freda Kelly, made by director Ryan White.
Other SXSW events already confirmed are a conversational appearance by Matthew McConaughey, and a panel featuring Carlton Cuse and the debut of the full pilot of his A&E series Bates Motel (trailer).