Trailer: Disney Infinity Video Game 'Platform' Announced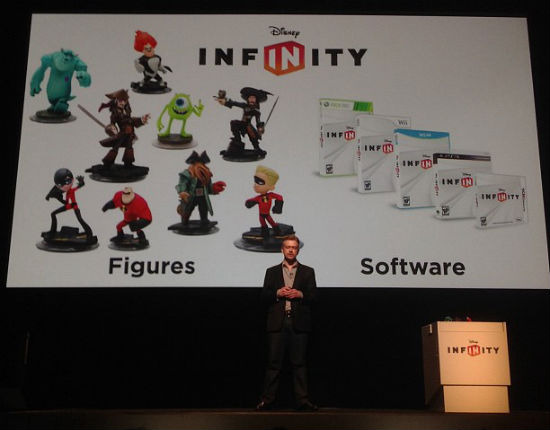 An imagination is the ultimate playground. There you can take anything you want and make it do anything you want. If you want a character from a movie to fight a character from a video game in the world of a comic book, your imagination can do that, no matter what logistical issues it might present in real life. Disney is now trying to take that limitless imagination and turn it into a video game.
Disney Infinity uses a physical toy and platform system, much like Skylanders, with which gamers can take control of characters from both the Disney and Pixar universes and team them up on any kind of adventure imaginable. Of course, if you'd like them to live in a movie world, that can be arranged too, as packs specific to movies like Monsters University, Pirates of the Caribbean, and The Lone Ranger and others will be available.
Disney Infinity is being developed for all major gaming platforms and will begin to roll out in June. If you watch the trailer below, details about the concept get clearer.
Here's a trailer for Disney Infinity thanks to Joystiq.
When the game launches, it'll be primarily based on Monsters University, Pirates of the Caribbean and The Incredibles, as see above, but will add new worlds and options and characters as time goes on. Hence "Infinity." According to reports, there won't be any "classic" Disney characters in it just yet, so no Mickey, Donald, or Goofy. There's also no word on whether they'll incorporate the other two character banks that Disney owns: Marvel and Star Wars. But, just from the name of the game, you'd have to assume that it's a possibility. Who wouldn't want to take Mr. Incredible through the Death Star or something like that?
You can read much more about Disney Infinity as some of the Disney specific blog: Stitch Kingdom, Inside the Magic, and others.