'Tasmanian Devils' Red Band Trailer: Zach Lipovsky's Syfy B-Movie Features Danica McKellar As Sarah Connor-Badass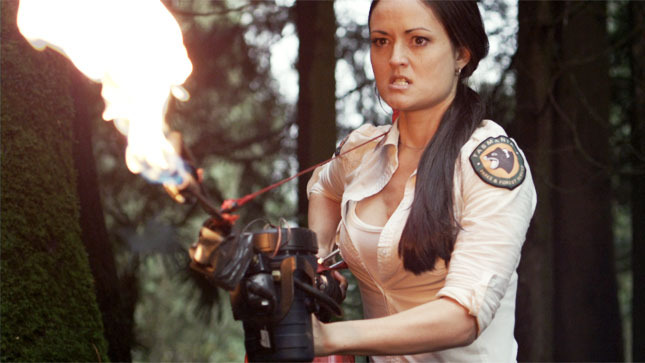 Tasmanian Devils, a SyFy Original Film that premieres January 19, features Winnie Cooper burning huge monsters with a flamethrower. If that's not enough to set your DVR, it's the debut film of Zach Lipovsky, the special effects master from the Steven Spielberg TV show On The Lot and co-stars Danica McKellar (Winnie Cooper from The Wonder Years) along with Olympic Gold Medalist Apolo Ohno and character actors from 24, Battlestar Galactica and more. And if that's still not enough, well, maybe this wacky tale of blood, gore, base jumping and tasmanian devils isn't for you. Check out the trailer below.
Here's the trailer for Tasmanian Devils, a SyFy Original Movie that has no problem knowing exactly what it is. And while this trailer isn't technically red-band, the gore is certainly worthy.
Tasmanian Devils Trailer – January 19th from Zach Lipovsky on Vimeo.
Looks insane and fun and Lipovsky is definitely someone to watch. Here's a bit about him from Peter:
You might remember 28-year old Vancouver filmmaker Zach Lipovsky as the visual effects maven on Steven Spielberg's 2007 Fox reality TV series On The Lot. Lipovsky just got finished filming a television movie for Syfy called Tasmanian Devils starring Danica McKellar (yes, Winnie Cooper from The Wonder Years) and just produced (with Chris Ferguson) the found footage action thriller Ends of the Earth which sold for big money to CBS Films. He's working with Blindness/Hobo with a Shotgun producer Niv Fichman to make his theatrical feature debut Dogs of War, a heavily-stylized action fantasy retelling (think 300) of the War of 1812 about "Canadian fighters clearing a path for the British army to invade Washington and burn down the White House."
Tasmanian Devils premieres at 9 p.m. Janury 19. on SyFy.