MGM Remaking 'Ben-Hur' From New Spec Script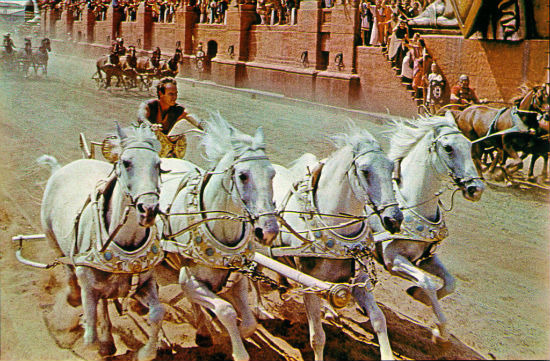 The 1959 film Ben-Hur, starring Charlton Heston, is one of the most revered films of all-time. Along with classics such as Gone with the Wind, Lawrence of Arabia, Citizen Kane and The Wizard of Oz, it's regularly in the discussion of the best American films ever made. Which, one would think, would make a remake off limits.
MGM has found a way. The company, which released the original film but then sold the rights to Ted Turner, has just purchased a spec script by Keith Clarke (The Way Back) that is "much different" from the original film and "more faithful" to the original book, Ben-Hur: A Tale of the Christ by Lew Wallace. There's more after the jump.
Deadline broke the news of this potential film, which also comes with "Sean Daniel and Joni Levin attached to produce, and Clarke and Jason Brown exec producing."
Though MGM does not own the rights to the film version of Ben-Hur (or a 1925 silent film of the same name) they can make this film beacuse the book, originally published in 1880, is in the public domain.
Instead of focusing on the feud between Judah Ben-Hur and Messala, this film will focus more on their formative years as friends before leading up to Messala's betrayal of Ben-Hur and the latter's revenge. That'll then be juxtaposed with the story of Jesus Christ, hoping to give the story even more historical and religious weight than it already has.
Biblical epics are extremely hot in Hollywood right now, with Darren Aronofsky's Noah on the way, films about Moses in development and Pontius Pilate, possibly starring Brad Pitt. Out of all of those, which story has more name recognition than Ben-Hur? Making this film isn't so much a remake as a hope that you've got the biggest name in a soon-to-be-hot genre.
Do you think this sounds like an interesting take on Ben-Hur? Will Biblical movies become all the rage?