Exclusive: Troma To Make 'Occupy Cannes,' A Documentary About True Independent Cinema; Find Out How To Contribute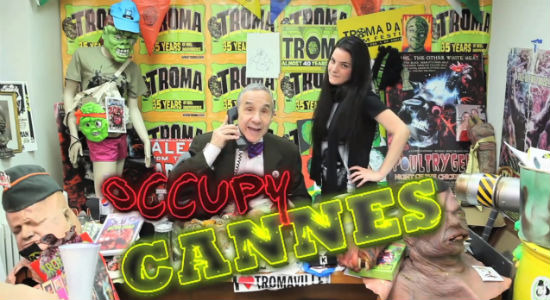 Troma has a plan to give the biggest film festival in the world a huge middle finger and you can be a part of it. We're proud to exclusively announce that the independent film studio, which has been in business for 40 years, is going to make a brand new documentary called Occupy Cannes. Filming will take place at the 2013 Cannes Film Festival centering on the studio's latest production, Return to Nuke 'Em High.
Troma CEO Lloyd Kaufman and the team will take the Nuke 'Em High sequel there, premiere it and along the way film the real side of Cannes, an international film festival they believe has gotten away from the true spirit of the movies. Occupy Cannes aims to be a 21st century David vs. Goliath story with Troma taking on the media conglomerates that control not only the film industry, but everything else, very much in the vein of their 2002 documentary, All the Love You Cannes.
That's where you come in. With Troma being such an independent film studio, this project needs help from fans across the world. They've just started an IndieGoGo Page where you can contribute and help Troma go to Cannes and give them a swift kick in the balls.
After the jump, check out the Occupy Cannes pitch video, read more about the project, and find out what prizes are available to those who contribute.
Here's the Occupy Cannes pitch video from the IndieGoGo Page that just launched this morning.
And here's A LOT more information on the project, which simply sounds like a whole lot of fun and totally worth of your support. How can you go wrong with Troma vs. Cannes?
The Project!
Troma's 39th year is the perfect time for Lloyd Kaufman and the Troma Team to film a follow-up to their acclaimed 2002 documentary, All the Love You Cannes. This new film, Occupy Cannes, will strike a blow for independent artists the world over, and will be released during Troma's 40th year at the 2014 Cannes Film Festival. This is a story bigger than life itself, but personal and intimate enough to touch each and every one of us. Occupy Cannes will not only be an important document for students and lovers of cinema all over the world, but also an irreverent, rebellious, and entertaining motion picture that, like All the Love You Cannes, will have wide appeal.
Established in 1974, Troma Entertainment is arguably the longest running truly independent idealistic film studio at the Cannes Film Festival. We want to continue bringing visionary politically and socially relevant cinema to a worldwide audience. With your help, we hope to return to the Cannes Film Festival and use our latest movie, Return to Nuke 'Em High, as the centerpiece for our documentary supporting the democratization of art and media.
The Story!
Occupy Cannes will tell the story of how the Troma Team, economically blacklisted independent filmmakers, fight to survive in a world dominated by the mega media conglomerates; mega media conglomerates who spend more on a party at the Cannes than Troma spends on an entire production. Our documentary will depict the struggle that occurs when we try to present a trulyindependent film at the Cannes Film Festival. Occupy Cannes will be not only entertaining but uniquely informative. It will be a true David versus Goliath story. You can help Troma hurl a stone right into the forehead of the mainstream movie monopoly on behalf of independent art and commerce
One of the key questions that independent artists ask is: "How can I attract attention without the millions in marketing dollars of the majors and without making a sex tape for the internet?" Our film will provide an answer by revealing the Troma Team's trade secrets in getting media attention on a very little budget. In our original 2001 film, All the Love You Cannes,we showed off Troma's famous guerilla marketing practices. In Occupy Cannes, we will show how the Troma Team has further developed these techniques. Practices like Troma's controversial street theater, the Troma parade and the appearance of Troma's world famous Tromettes, The Toxic Avenger and Sgt. Kabukiman, NYPD will all make appearances. This new film will show how the Troma Team has further developed these secrets over the past ten years and perfected them; secrets that can be applied not only to filmmaking and distribution, but to all walks of life
The Importance!
Occupy Cannes will turn one of the world's longest running and most important film festival inside out for the viewer. From meetings with buyers, to soirees on the Riviera (to which Lloyd Kaufman the Troma Team are never invited), to the premiere of Return to Nuke 'Em High on the "green" carpet, viewers will join us as we continue our valiant crusade: giving independent art back to the people! We'll have the opportunity to film everyone and everything at the Festival, from luminaries like Harvey Weinstein and Quentin Tarantino to the independent filmmaker trying to sell a tender, heartfelt documentary about his pet hamster. This approach will give viewers an insight they've never had into the inner workings of the Cannes Film Festival at every level.
Occupy Cannes will prove to be an invaluable tool not only for independent filmmakers, but for all artists, scholars, and anyone that values the idea of artistic independence. More important, the issue of artistic independence is bigger than Cannes, Troma, Return to Nuke 'Em High, and the film industry itself; it's about showing the world that independent art must be actively fought for. All we need is you. Help us to bring the true spirit of independence back to Cannes and this big blue marble we call Earth.
The People!
Established in 1974 by Yale friends Lloyd Kaufman and Michael Herz, Troma Entertainment is one of the longest-running independent movie studios in United States history, and one of the best-known names in the industry. World famous for movie classics like Kaufman's The Toxic Avenger,Sgt. Kabukiman, NYPD, Poultrygeist: Night of the Chicken Dead, as well as Class of Nuke 'Em High and Tromeo & Juliet, Troma's seminal films, such as Mother's Day and The Toxic Avenger are now being remade as big budget mainstream productions by the likes of Brett Ratner, Richard Saperstein, Akiva Goldsman, and Steven Pink. Among today's luminaries whose early work can be found in Troma's 800+ film library are Samuel L. Jackson, Trey Parker, Matt Stone, Jenna Fischer, Robert De Niro, Dustin Hoffman, Kevin Costner, Fergie, Vincent D'Onofrio, James Gunn and Eli Roth. Visit Troma at www.troma.com.
Lloyd Kaufman is the President of Troma Entertainment and creator of The Toxic Avenger. Since founding Troma in 1974 with his partner Michael Herz, he's directed such Troma classics as The Toxic Avenger, Terror Firmer, and Troma's War. In addition to directing, Kaufman founded the annual TromaDance Film Festival, an independent film festival that charges filmmakers no entry fee. He has also written six best-selling books, including All I Need To Know About Filmmaking I Learned From The Toxic Avenger, Make Your Own Damn Movie, and Sell Your Own Damn Movie. You can find his website at www.lloydkaufman.com and follow his twitter at www.twitter.com/lloydkaufman.
The Tension!
Will Troma make international sales on Return to Nuke 'Em High? Will Lloyd Kaufman and the Troma Team be able to compete with the mega-conglomerates and their vassals? Can idealistic, independent thought survive in a world dominated by Burger King action figures? The only way to find out is to donate today in order to show the big movie world and the mainstream movie industry that the true independent spirit is still alive!
$1- A big thank you and a curtsy for supporting the world of independent art and commerce! This documentary would not be possible without you, the fans!
$10-"Return to Nuke 'Em High" official mini-poster signed by Lloyd Kaufman!
$25- Strut around town wearing your new "I Made the Troma Team" pin, exclusive to this campaign! Of course, you'll also receive a "Return to Nuke 'Em High" mini-poster signed by Lloyd Kaufman! + all the above
$50- Everyone will want to share your DVD of "Occupy Cannes" signed by Lloyd Kaufman (when it's released) + all the above.
$100- Get out your autograph pen because your name will be in the "special thanks" section of the "Occupy Cannes" on screen credits! You will also take home a limited edition "Return to Nuke 'Em High" Cannes Film Festival Poster! It's completely exclusive to this Indiegogo project! If that's not enough you'll have this very special poster signed by Lloyd Kaufman and the cast of "Return to Nuke 'Em High"! + all the above
$150- Now, how about taking home a limited edition "Return to Nuke 'Em High" art book (which is totally exclusive to this campaign) signed by Lloyd Kaufman?! Well, now you can! + all the above
$500- You will receive your very own one-of-a-kind, screen-used prop from "Return to Nuke 'Em High", signed by Lloyd Kaufman. Lloyd Kaufman will also follow you on Twitter! Now would be the time to get on the computer and make a Twitter account! + all the above
$750- Have you heard of the very talented artist, Mark Quinette? Well, how about owning a one of a kind, airbrushed "Return to Nuke 'Em High" sweatshirt or trucker hat (donator's choice) signed by Mark himself! You will also have the privilege of being added to Lloyd Kaufman's Facebook page which is currently full! + all the above
$1,000- You will make your very own appearance in "Occupy Cannes!" All you need to do is make use of your amazing glamour and film yourself(for no more than thirty seconds) talking about what art and independent cinema means to you and you'll be on screen in the documentary. Your name will also be on the limited edition "Return to Nuke 'Em High" Cannes Film Festival poster! + all the above
$3,000- You, the lucky patron of art, will own an advanced, limited edition, numbered copy of "Return to Nuke 'Em High" on Blu-Ray or DVD, signed by Lloyd Kaufman with limited edition packaging exclusive to this campaign. + all the above
$5,000- Lloyd Kaufman will fly to meet you in any major hub in the world and host you for a lunch you'll never forget! You will also get a private, hosted screening of Troma Entertainment's "Return to Nuke 'Em High"! Bring along with you 10 of your movie loving friends and family! + all the above
$10,000- Don your evening gown or your tuxedo because you're going to Cannes! Prepare to walk the red carpet with the world famous Troma Team and the stars of "Return to Nuke 'Em High"! Wait, there's more! You will have a producer's on-screen credit on "Occupy Cannes!" You will have the amazing opportunity to live in the Troma Team apartment, be a part of the Troma Street Team and, just when you thought that was it, you'll be featured in the film itself! You'll be famous! You will also enjoy dinner and drinks with Lloyd Kaufman on the Riviera! You'll get to ask the questions you've always wanted to ask him. + all the above (Excludes lunch mentioned in the $5,000 mark)