'Happy People' Trailer: Werner Herzog Takes His Camera To Remote Siberia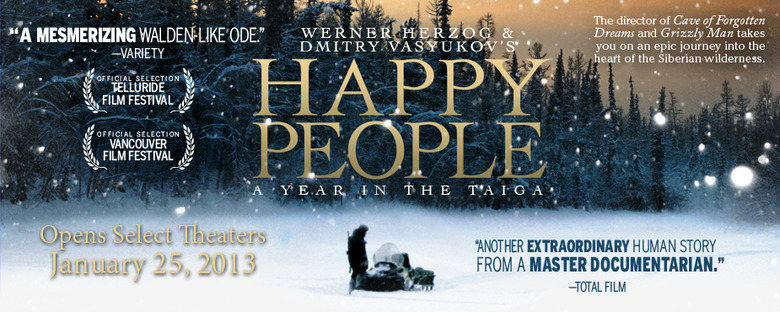 I'll listen to Werner Herzog read any script — even the lightly written villain role in Jack Reacher — and so the appearance of a new Herzog documentary is a thing of many pleasures. First, there's his extraordinary ability to capture documentary subjects. Then there's his tendency towards the pursuit of "ecstatic truth," which is Herzog's term for a depiction of reality that isn't true, strictly speaking, but uses the false to probe towards an inaccessible truth.
And then there's Herzog's scripting and narrating, the combo of which always sets his efforts apart from other documentaries. I don't know how much of Herzog we'll hear in Happy People: A Year in the Taiga, as this trailer is mostly comprised of images, free of any decorative narration. But those images look incredible, and this film (co-directed with Dmitry Vasyukov) could be a perfect companion to Encounters at the End of the World.
See the trailer below.
Happy People has been rolling through festivals for over a year. It hits some US theaters later this month.
With HAPPY PEOPLE, Werner Herzog takes viewers on yet another unforgettablejourney into remote and extreme natural landscapes. The acclaimed filmmakerpresents this visually stunning documentary about the life of indigenous people living in the heart of the Siberian Taiga.
Deep in the Siberian wilderness, far away from civilization, 300 people inhabit the small village of Bakhta at the river Yenisei. There are only two ways to reach this outpost: by helicopter or boat. There's no telephone, running water or medical aid. The locals, whose daily routines have barely changed over the last centuries, live according to their own values and cultural traditions. Withinsightful commentary written and narrated by Herzog, HAPPY PEOPLE follows one of the Siberian trappers through all four seasons of the year to tell the story of a culture virtually untouched by modernity.