Short Film 'R'ha' Mines "Enhanced Interrogation" For Sci-Fi Thrills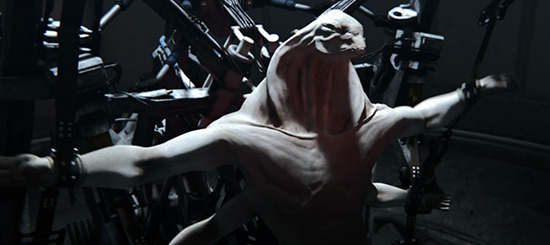 When you read about a guy named Kaleb Lechowski getting a gig directing some expensive sci-fi film, this short might be the reason. Lechowski made the CG short R'ha over a period of seven months, animating it on his own while studying film and animation at Berlin's Mediadesign Hochschule. Lechowski's people are happy to note that he's only 22, and will turn 23 in March.
The short presents and interrogation between an alien and a machine. It's well-animated, if not exactly crafted with much nuance. Lechowski has probably earned himself a career in digital animation with this, at least. Coming as it does just as Zero Dark Thirty goes wide, the subject matter is interesting — the same blend of interrogation techniques that are at the center of the debate over Kathryn Bigelow's film are the core of the story here. While I'm not wild about this short overall, I do like seeing that controversial subject matter put into a different context.
See the short below.
[THR]