Ruben Fleischer's 'Gangster Squad' Gets One Last Extended Trailer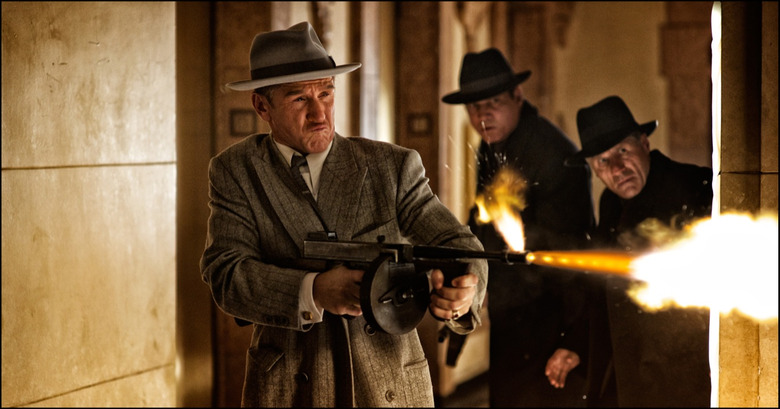 With Ruben Fleischer's Gangster Squad hitting theaters today, Warner Bros. is squeezing in one last extended trailer. Based on true events, the drama follows a special force of LAPD officers who are tasked with breaking the mob's iron grip on the city of Los Angeles. The new three-minute promo offers looks at Josh Brolin and Ryan Gosling's incorruptible cops, but it mostly highlights Sean Penn's scenery-chewing performance as gangster king Mickey Cohen. Watch it after the jump.
[Machinima via Coming Soon]
Germain didn't much care for this movie, and Russ and I didn't either, but perhaps you'll feel differently. In any case, the trailer is a pretty accurate representation of the movie. There's more violence in the film, some of which is pretty brutal, but the characters and their conflicts don't get much deeper than we see here. Nor does the dialogue improve. Believe it or not, "Los Angeles is a damsel in distress, and I need you to save her" is actually one of the film's less cheesy lines.
It's a shame to waste such a talented ensemble ast, which in addition to Brolin, Penn, and Gosling also includes Emma Stone, Anthony Mackie, Michael Peña, Giovanni Ribisi, Robert Patrick, and Nick Nolte. At least everyone comes out looking really good — those period styles really suit these movie stars' classic good looks.
Synopsis:
Los Angeles, 1949. Ruthless, Brooklyn-born mob king Mickey Cohen (Sean Penn) runs the show in this town, reaping the ill-gotten gains from the drugs, the guns, the prostitutes and—if he has his way—every wire bet placed west of Chicago. And he does it all with the protection of not only his own paid goons, but also the police and the politicians who are under his control. It's enough to intimidate even the bravest, street-hardened cop...except, perhaps, for the small, secret crew of LAPD outsiders led by Sgt. John O'Mara (Josh Brolin) and Jerry Wooters (Ryan Gosling), who come together to try to tear Cohen's world apart.