Seth MacFarlane Gets Drunk, Channels Daniel Day-Lewis In New Oscar Promos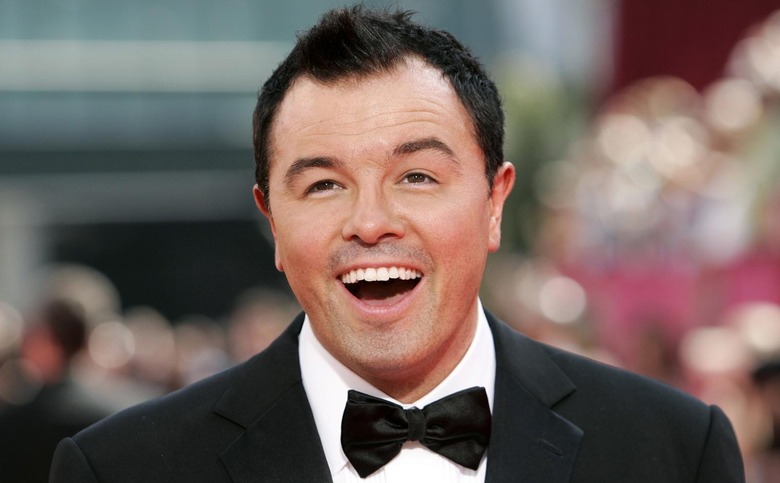 The Academy isn't known for its unpredictability (well, this year's snubs for Best Director notwithstanding), but it came as a big surprise when it was announced last year that they'd selected Seth MacFarlane to host the awards ceremony. The Family Guy creator is well loved among the younger set but little known among the older-skewing Oscar audience. In any case his "edgy" humor seems like an odd fit for a typically tame event.
This morning, we got a first taste of how MacFarlane might fare as master of ceremonies when he and Emma Stone announced the nominees together. Now the Academy has put out five short TV spots that show off his comedic chops. Watch them after the jump.
Honestly, these aren't half bad. MacFarlane manages to stay on the right side of the divide between confident and smug, and gets in some self-aware quips about Twitter reactions and the reasons he was chosen. I even laughed a little at the Daniel Day-Lewis joke.
However, there's a world of difference between tossing off a few short promos and hosting a three-hour ceremony. My suspicion is that when the actual Oscars roll around, we'll get the version of MacFarlane that announced the nominees. You know, the one that made stale cracks about Hitler and Harvey Weinstein. I'm not of the opinion that Hollywood is sacred ground and shouldn't be mocked, but surely there are more interesting jokes to be made there. Watch MacFarlane's awkward presentation below:
Is it too late to change course and give Stone the hosting job instead? Either way, the 85th Academy Awards will be broadcast live on ABC Sunday, February 24 at 7 PM Eastern / 4 PM Pacific.
Discuss: Admittedly, I'm not a fan of MacFarlane's humor in general. If you are, feel free to tell me why I'm totally wrong and MacFarlane will actually be a great Oscar host.