'42' Trailer And Featurette: America's Racial History Is No Game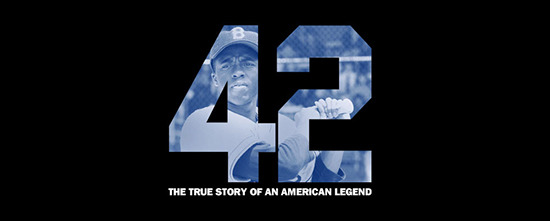 The story of Jackie Robinson is one of the most important stories in sports history, but it is also one of the most important social stories of the 20th century. As the first black ballplayer in Major League Baseball, Robinson became one of the focal points at an early stage in the ever-evolving shift in American race relations. Which is to say that he was subjected to the same scorn, intimidation, and attacks as many other black men and women, but on a much larger scale.
The first full trailer for 42 is a dramatic, energetic thing, but it is also infuriating. It recreates some of our worst behavior in broad strokes, and even if the actions seen here are dramatically enhanced, the core attitudes and behavior have an inarguable basis in history. And while 42 sports Harrison Ford grumping and growling his way through some pretty impressive makeup, there's enough of a sense of reality in this footage to make the intimidation of Robinson (played by Chadwick Boseman) have serious impact. Presumably, that will also make his eventual victory and acceptance pay off with the power of a grand slam.
That's a solid trailer, and I hope that it properly represents the film. This story deserves a great treatment, not just some rote retelling. Could Helgeland have done right by Robinson?
Apple has the new trailer. 42 is out on April 12.
Warner Bros. Pictures and Legendary Pictures are teaming up with director Brian Helgeland for "42," the powerful story of Jackie Robinson, the legendary baseball player who broke Major League Baseball's color barrier when he joined the roster of the Brooklyn Dodgers. "42" will star Academy Award(R) nominee Harrison Ford ("Witness") as the innovative Dodger's general manager Branch Rickey, the MLB executive who first signed Robinson to the minors and then helped to bring him up to the show, and Chadwick Boseman ("The Express") as Robinson, the heroic African American who was the first man to break the color line in the big leagues.
As a bonus, here's a recent featurette on the making of the film: