First Look At Michael Fassbender, Maggie Gyllenhaal, And Domhnall Gleeson In 'Frank'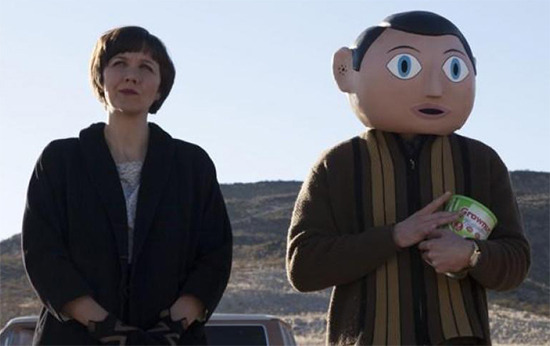 Frank is a movie I'm pretty psyched for this year — the UK comedy casts Michael Fassbender in what seems to be a quirkily comedic role (you know, like his gig in Prometheus) alongside Maggie Gyllenhaal and Domhnall Gleeson. The picture sets Gleeson as Jon "a young wannabe musician who discovers he's bitten off more than he can chew when he joins a band of eccentric pop musicians led by the mysterious and enigmatic Frank (Fassbender) and his terrifying sidekick Clara (Gyllenhaal)."
The photo above is a bit of the first still from the film, and you can see the full shot below. 
Lenny Abrahamson directs from a script by The Men Who Stare at Goats author Jon Ronson and Peter Straughn.
Gleeson's character is loosely based on Ronson, as the author based the story on Frank Sidebottom, who was the alter-ego of Manchester musician, comedian, and video game creator Chris Sievey. Ronson spent time playing in Sidebottom's band, and his friendship with Sievey informs the film.
I looked at this image and originally thought it to be a clear nod to The Residents, who perform anonymously, often wearing large masks such as eyeballs and strangely exaggerated human heads. But that mask sported by Fassbender in the picture is a pretty dead-on recreation of the mask Sievey wore when he performed as Sidebottom.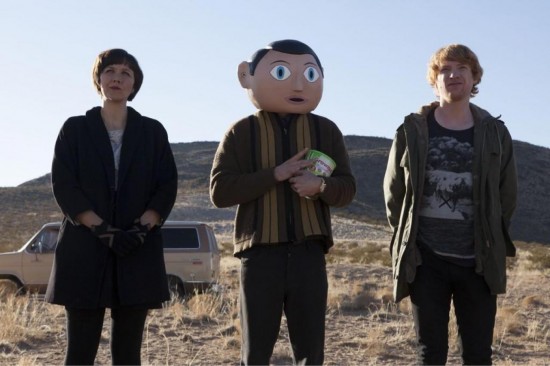 Frank also stars Scoot McNairy, Carla Aza, and Francois Civil. [ComingSoon]