'Trance' Trailer: Danny Boyle Thriller Fractures James McAvoy's Mind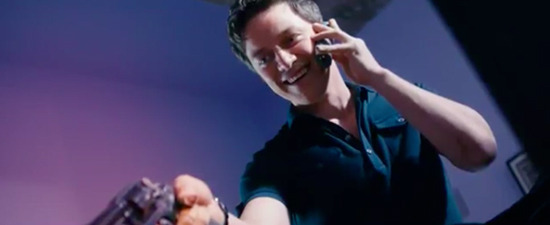 Danny Boyle looks like he's having fun again. Let me clarify that, actually: Danny Boyle's films always look like the product of a director who is having fun, but this time the movie seems like a pure genre exercise where his exuberance is going to be the dominant note.
Before Boyle dealt with the big decisions for last summer's Olympic opening ceremony, he shot a movie called Trance, starring James McAvoy, Rosario Dawson and Vincent Cassel. The film is a loose remake of a TV film that ran in the UK in 2001, and looks like a gangland heist thriller with a hallucinogenic mindset underlying the action. McAvoy is an art thief who takes a knock on the head, after which he claims he can't recall where he stashed the object of his last heist. Cassel is the ringleader who wants the missing loot, and Dawson is the hypnotist hired to get the info out of McAvoy's head.
The trailer for Trance should be online for real tomorrow, but after Film 2013 on BBC1 premiered it tonight, some of the footage has come online.
Update: We've replaced the original partial embed with the full trailer.
While I found some of Boyle's playful tricks to be overbearing in a film like 127 Hours, here they look like a great way to liven up what could be a pretty standard thriller. If the trailer is any good indication, he's really playing around with breaking up imagery, and the overall vibe calls back to early Boyle pics like Trainspotting and A Life Less Ordinary. That latter one isn't a movie that gets called up as a highlight of the '90s, but bending some of the spirit found in that film to better ends would be alright.
Trance opens in the UK on March 27th. A US date hasn't yet been set. The trailer is via MSN UK.
TRANCE, directed by Oscar®-winning filmmaker Danny Boyle (Slumdog Millionaire, 127 Hours) and co-written by Oscar®-nominated long term collaborator John Hodge (Shallow Grave, Trainspotting) is a seductive and enigmatic thriller starring James McAvoy, Vincent Cassel and Rosario Dawson.
Fine art auctioneer Simon (McAvoy), in league with a gang led by underworld boss Franck (Cassel), plots the audacious theft of a masterpiece by Goya from a major public auction. When Simon double-crosses the gang during the robbery, Franck retaliates violently and knocks him unconscious. In the aftermath of the heist, Simon sticks stubbornly – and perhaps shrewdly – to his claim that the violent trauma has left him with no memory of where he stashed the artwork.
Unable to coerce the painting's location from Simon, Franck and his associates reluctantly join forces with a charismatic hypnotherapist (Dawson) in a bid to get him to talk. But as they journey deeper into Simon's jumbled psyche the boundaries between reality and hypnotic suggestion begin to blur and the stakes rise faster and far more dangerously than any of the players could have anticipated.