'Star Trek Into Darkness' Videos: Editing Bay Tour Of Bad Robot And Smartphone App Presentation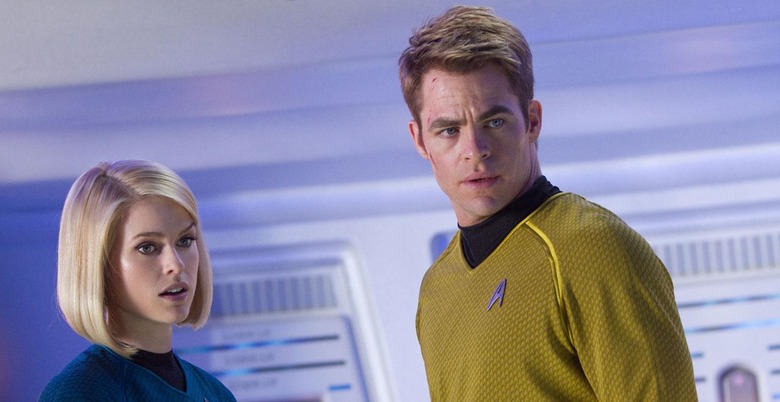 They're not quite trailers, but two new videos featuring footage and updates on Star Trek Into Darkness have come online. The first is an 18-minute video called  "Secrets From Inside Bad Robot" which takes the viewer on a tour through the mythic production company, with a strong focus on its editing bays and workflow. In the video, there are a bunch of quick, new glimpses at the J.J. Abrams directed sequel.
The second video is the official onstage annoucncement of the Star Trek Into Darkness app, which was revealed earlier this week. Co-star Alice Eve hit the stage to explain how the app will not only come into play during the Super Bowl, but will faciliate a real world easter egg hunt for the May 17 release. Check them both out below.
Here's the Avid tour of Bad Robot. Thanks to First Showing for the heads up.
If you head to TrekMovie.com they grabbed some screencaps from the above video and the Avid site has the following description.
"Join host Matt Feury, pro video marketing manager at Avid, and the editorial, audio, and VFX teams at Bad Robot for a discussion on the innovative workflows the teams created to help them commandeer the story and action at warp speed for the upcoming movie, Star Trek into Darkness."
See how concurrent collaboration enables the teams to create more inspired content faster
Hear how the editors create full 5.1 temp audio mixes in Media Composer while they cut
Gain insight into J.J.'s workflow and the special elements that he himself creates
Take a peek at their unique workflow, featuring Media Composer, Pro Tools, and ISIS
And here's the app announcement from CES. For some background on the weird tone of some of this video, check out the recap of Qualcomm's kooky CES presentation at The Verge.
Star Trek Into Darkness opens on May 17. Read more about the film here.