TV Bits: 'It's Always Sunny', 'Community', 'Happy Endings', 'Dexter', 'Spartacus: War Of The Damned', Louis CK, Bryan Cranston, Rian Johnson, And More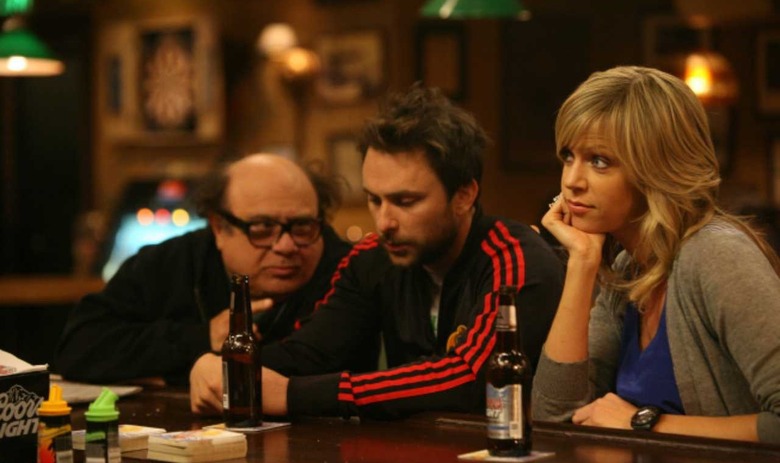 Whether you like spiteful Philadelphians or vengeful Romans, there's something for you here. After the jump:
Louis CK, Bryan Cranston, and Rian Johnson score DGA noms
It's Always Sunny in Philadelphia is getting its own beer
Revolution, Political Animals, and more are coming to Netflix
Fox's late-night animation block will kick off this summer
Fox's In Living Color reboot is not going to happen
Read one fan's argument that it's OK if NBC kills Community
Is ABC's Happy Endings in danger of getting cancelled?
The casting search for Dexter Season 8 offers some plot hints
Spartacus: War of the Damned has a bloody new trailer
So much of It's Always Sunny in Philadelphia takes place in that bar, so it seems only natural that the TV series is branching out with its own branded booze. California's Stone Brewing Co. has teamed up with Illinois' Two Brothers Brewing Co. and Chicago's Aleman for Dayman Coffee IPA, named after the song Charlie writes in the Season 3 episoe "Sweet Dee's Dating a Retarded Person."
The drink will debut sometime in March. Between this and the Game of Thrones-themed Ommegang Iron Throne Blonde Ale, is TV-inspired craft beer going to be the next big trend? Because that's one I can get behind. [Paste via AV Club]
Netflix's push into original programming isn't stopping them from beefing up their, uh, unoriginal offerings. The streaming service has struck a deal with Warner Bros. TV for eight existing series — Revolution, Political Animals, Longmire, 666 Park Avnue, The Following, Chuck, Fringe, and The West Wing — as well as potential future shows. Look for the currently running shows to hit Netflix a few months after each season ends. More details at Coming Soon.
Fox is expanding its successful Animation Domination programming block to Saturdays with Animation Domination HD, a late-night offshoot targeted at older viewers. The new block will consist of several 15-minute series, including:
AXE COP, which follows the badass titular hero and his partner Flute Cop. Megan Mullally, Patton Oswalt, Ken Marino, and Peter Serafinowicz are part of the regular voice cast, with Giancarlo Esposito, Jonathan Banks, and Dan Harmon among the planned guest stars.HIGH SCHOOL USA!, which centers around a "painfully naïve and always upbeat" high school kid and features the voices of Vincent Kartheiser and Mandy Moore.UNTITLED LUCAS BROTHERS PROJECT, based on comedy duo Kenny and Keith Lucas. The twins start a new moving company after a dying uncle leaves them his old van.
Look for the network to announce more series as the block approaches its July 27 premiere. Programming will run from 11 PM – 12:30 AM. Click over to Deadline for more in-depth info.
One thing that won't be playing on Fox anytime soon is an In Living Color reboot. Keenen Ivory Wayans signed on to host the remake in 2011, but now that some footage has been shot it seems Fox's decision-makers don't much care for it. In fact, they hate it so much that Vulture's sources say it'll never even air as a special.
If Community's fanbase were a country, stressing out about the show's potential cancellation would be its national pastime. But one viewer is advancing the radical notion that cancellation may actually be for the best.
In a heartfelt essay, Danger Guerrero argues for letting the show go out strong, rather than tinkering with its formula to draw a wider audience. We've heard variations on the same argument about other struggling shows in the past — Friday Night Lights Season 2, anyone? — but it's in apparent opposition to the #SixSeasonsAndAMovie mantra that's become the rallying cry of the Greendale set. Read the full piece at Uproxx.
Happy Endings fans, meanwhile, are just starting to really freak. This week, ABC started showing episodes of Happy Endings and Don't Trust the B— on both Sundays and Tuesdays, and the ratings for this past Sunday were apparently abysmal. The show's been on the bubble each season so far, so a poor performance is a very bad sign. Then again, Vulture has a few reasons why all hope's not lost — jump over to see what they are.
As Dexter hurtles toward its series finale, it's adding two characters who could create major drama for the the Morgan siblings. One is Dr. Evelyn Vogel, a sharp 50something neuropsychiatrist who helps profile criminals, while the other is Jacob Elroy, a handsome 40ish ex-cop who's running his own PI business. Something tells me Dex and Deb's secrets won't stay hidden for long. [TV Line]
Four seasons in, Starz' Spartacus hasn't lost its taste for blood. Check out a new trailer for its final season, titled War of the Damned.
The season kicks off January 25. [via Cinema Blend]