'Arrested Development' Movie Would Be Family Reunion, Plus New Info On The Story And Structure Of Season Four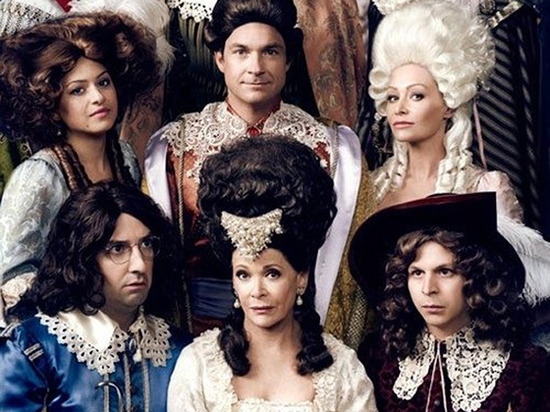 The return of Arrested Development is undoubtedly one of the biggest pop culture events of 2013. Mitch Hurwitz's comedy has been off the air since 2006 but Netflix will release either 13 of 14 brand-new episodes simultaneously this May. If that revival is successful, the plan is to possibly follow it up with a movie. And in a new interview with USA Today, Hurwitz explains exactly how that film would tie into the new episodes.
He also discusses some of the difficulties of shooting these new episodes with their now super-famous cast, how these episodes will feel different from the original three seasons that aired on Fox from 2003-2006, and their overall story. Read his quotes and a ton of new information about Arrested Development after the jump.
The information comes from a USA Today article about the viability of Netflix's effort to create original content. (A summary – it's a major player.)
Netflix's chief content creator, Ted Sarandos, says that knowing the episodes will be presented all at once, and fans can watch them all together in one huge marathon totally changes how they were written and structured:
Part of the experience of waiting for the next episode (forces) the need to create artificial cliffhangers (that) ultimately dilute the storytelling.
All Netflix shows will be eligible for Emmy nominations and, in the case of Arrested Development, it's a very different experience from the original series. Most of the actors are busy doing other shows so, contractually, it was a bit difficult to get them to return. Here's Hurwitz:
Contractually, we couldn't use all the characters in every episode; they were not free to do as much television as they want.
The result is that every episode will focus on one character (this we knew) but instead of jumping around to the different members of the family, like the original series, these will be much more linear and stick with each character. The only character that appears in every episode is Michael Bluth, played by Jason Bateman.
"Each individual (episode) kind of depicts what happens in 2006 as the Bluths fled from the law on the Queen Mary" in what was once the series' finale, then explains what's happened to them since and leaves them in the present day, [Hurwitz] says.
The true flavor "slowly reveals itself, as the moment you saw in one show will reappear in another show from a different character's perspective," he says. "If people watch it all at once, it will seem like a giant Arrested Development. It's really tailored for Netflix."
Michael Cera is now one of the writers on the show and each episode was assembled like a "complex puzzle" with scenes shot on different days all assembled together.
As for the story, Hurwitz described it as follows:
"The bigger story is the family has fallen apart at the start of our show," Hurwitz says. "They all went their own way, without Michael holding them together, so they're left to their own devices, and they're not the most successful devices." The season is designed as a "first act to what we eventually want to do, which is a big movie," though there's no guarantee it will ever get made.
That potential movie is teased in the fourth season's final episode. Over the course of the season, the full cast never appears together on screen at once, but they did do one quick thing teasing a family reunion that could happen in the movie:
"It was such a joy to be back with everybody; it didn't feel like work, it felt like being back with friends," Hurwitz says. "You don't see them all together until you see the movie." But even apart, "I can assure you that the characters are just as damaged, self-involved and self-righteous as ever."
Lots and lots of information to digest but the main take away is that this isn't going to be the Arrested Development we all know and love. That's fine by me, simply because I can't wait to see these characters back in some way.