'Parade's End' Teaser: Benedict Cumberbatch Is Coming To HBO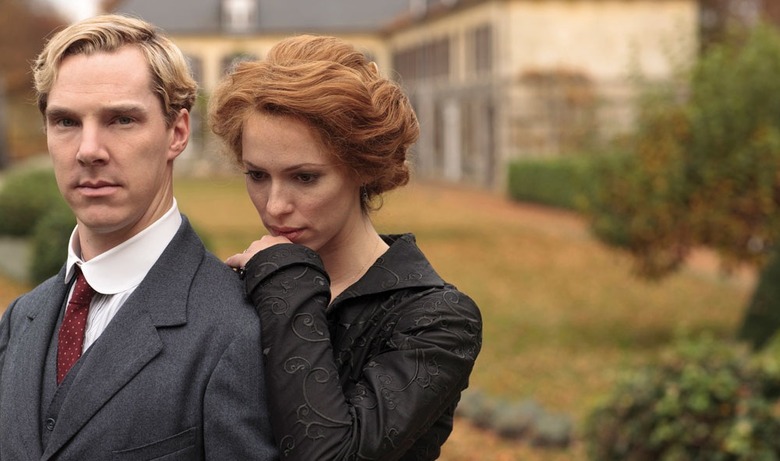 Each year, there are a couple of actors who seem to be everywhere you turn. In 2011, it was Jessica Chastain. In 2012, it was Channing Tatum. In 2013, it could very well be Benedict Cumberbatch. The jury's still out on whether we'll be getting more Sherlock before the year's out, but either way we'll be seeing plenty of his handsome British visage. He has some four movies due out next year, and now HBO's picked up his 2012 UK miniseries Parade's End to air in the U.S. next month.
Adapted by Tom Stoppard from the book tetralogy by Ford Madox Ford, the series centers on a love triangle between the aristocratic Christopher (Cumberbatch), his unfaithful wife Sylvia (Rebecca Hall), and the spirited young Valentine (Adelaide Clemens) against the backdrop of World War I and a quickly changing society. Stephen Graham, Anne-Marie Duff, Rupert Everett, and Miranda Richardson also star. Watch the teaser trailer after the jump.
The thirty-second teaser doesn't offer too much. We get a taste of the tone and setting, as well as director Susanna White's eye for beautiful backdrops. Considering the high caliber talent involved, though, I have pretty big expectations for Parade's End. Strong reviews from the U.K., where the miniseries aired last fall, indicate that my hopes aren't too misguided.
HBO co-financed the miniseries, and in a few weeks will be ready to show it off to American audiences. The network announced today that it'd air the first two parts of Parade's End on Tuesday, February 26 at 9 PM, with the remaining three installments airing over the next two nights. With the similarly themed (albeit more lowbrow) Downton Abbey due to wrap up its third season in mid-February or so, Parade's End should be in prime position to console Downton fans craving a fix of upper-class Edwardian-era Britain.