TV Bits: 'The Walking Dead', 'The Office', '30 Rock', 'Girls', 'Community', 'House Of Cards', Anna Faris, Martin Lawrence, Kelsey Grammer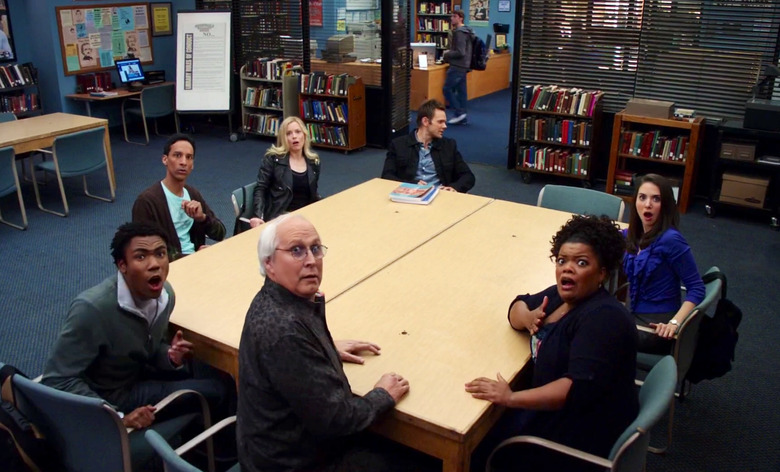 It's been a slow week for movie news, but not so on the small-screen front. After the jump:
Jon Favreau will direct one of The Office's last episodes
Nancy Pelosi and Ice-T will appear on the 30 Rock finale
A Walking Dead newcomer joins Once Upon a Time
Here's what Donald Glover will be doing on Girls
Writer Megan Ganz leaves Community for Modern Family
Ryan Murphy teases details on American Horror Story Season 3
Anna Faris books Chuck Lorre's newest comedy, titled Mom
Martin Lawrence and Kelsey Grammer team for a new sitcom
Starz backs a new drama from William Monahan called Crime
Four more trailers debut for David Fincher's House of Cards
The Walking Dead gets a teaser for the second half of Season 3
Meanwhile, 30 Rock is looking outside Hollywood to beef up its cast for the finale. House Minority Leader Nancy Pelosi has been confirmed for a guest role in the episode, which will also feature an appearance by Ice-T. The last episode of the series wrapped shooting before the holidays, and will air January 31. [THR]
Sonequa Martin-Green, who recently made an impression as one of the new characters in The Walking Dead's midseason finale, has booked a mysterious role on ABC's Once Upon a Time. Her character, called Tamara, is described as likable but ambitious — a vague description that offers few hints as to what her fairy tale identity might be. Martin-Green will recur in the current second season, and may continue to appear in Season 3. [EW]Donald Glover's upcoming appearance on HBO's Girls is old news, but now we have new info on what exactly he'll be doing on the series. According to a Season 2 review from THR, Glover will play "a handsome black Republican named Sandy" who becomes one of Hannah's (Lena Dunham) love interests.
In an apparent response to the real-world debate over Girls' lack of diversity, the character will at some point call out Hannah's lack of knowledge about race, prompting her to go on the defensive. Missy Elliott lyrics are somehow involved. [via AV Club]
Community hasn't even started airing Season 4, let alone figured out what's happening with Season 5. But if the series manages to survive for another year, it'll do so without Megan Ganz. The writer announced via Reddit that she'll be leaving the show for new job at ABC's Modern Family. Highlights from Ganz's time on Community include "Cooperative Calligraphy," "Intermediate Documentary Filmmaking," and "Basic Lupine Urology."
Ganz's departure is just the latest blow for the troubled series, which over the past year has also lost series creator Dan Harmon and star Chevy Chase. This isn't a final nail in the coffin for Community, but yeesh, things aren't looking so good. [via AV Club]
On to less depressing news: Ryan Murphy's never been particularly interested in secretiveness, and in a new interview he dropped a few hints about what's coming up for American Horror Story next season. While the current season, Asylum, has gone down some pretty dark paths, Murphy plans to go a little lighter in the next year.
I sorta feel like for the third version I want to do something that's a little bit more 'evil glamour.' Just something that's a little bit more...one of the things that I missed this season was I really loved having that Romeo & Juliet youth story with Violet and Tate. I want something like that again and we're doing something like that in the third season. And we're contemplating shooting the show in a different place. We're contemplating shooting it in a place in the country where true horror has been. We've got lots of delicious plans.
Read more at EW.com.
Despite her considerable talents, Anna Faris' actual big-screen career has been hit-or-miss so far. Perhaps she'll have better luck on the small screen. The House Bunny actress has just been cast as the lead of Mom, Chuck Lorre's newest sitcom for CBS. Faris will play a newly sober single mom trying to get her life back on track in Napa Valley. Faris' previous TV work includes guest roles on Entourage and Friends. [Deadline]
The odd couple pairing is a staple of TV comedy, but it's tough to think of a match-up more random than Kelsey Grammer and Martin Lawrence. The stars are joining forces for a new multi-camera comedy described only as a "buddy series." The project apparently came out of a November meeting in which Grammer and Lawrence proved to have "great chemistry." Who knew? [Deadline]
The Departed screenwriter William Monahan is bringing his talents to cable television. Starz has given a script commitment to his simply titled Crime, described as "a study of criminal enterprise and scandal across 1960s Britain." Despite the potentially dark subject matter, Monahan says we can plan to laugh. "I know one thing: it's very, very, funny," he wrote in a press release. [Deadline]David Fincher hasn't directed a movie since The Girl With the Dragon Tattoo, but in just a few weeks we'll get to see what he's been up to since then. February 1 marks the premiere date of Netflix's House of Cards, with all thirteen first-season episodes due to hit the streaming service at the same time.
Back in November, we got our first glimpse of Kevin Spacey as ruthless, ambitious politician Francis Underwood. Four new trailers have just hit, giving a little more screentime to his co-stars Robin Wright, Kate Mara, and Corey Stoll. Unfortunately, the trailers are only available for Netflix subscribers at this time, but if you're already a member, click here to check them out.
Buck up, Walking Dead fans — we're just about at the halfway point of the show's two-month winter hiatus. AMC has unveiled two new videos teasing the craziness to come when the series picks back up with its third season on February 10. The first video, a trailer, takes a more general approach, while the second is actually a one-minute clip from the midseason premiere.
[via Vulture]