'Unfinished Song' Trailer: Terence Stamp Sings "Let's Talk About Sex"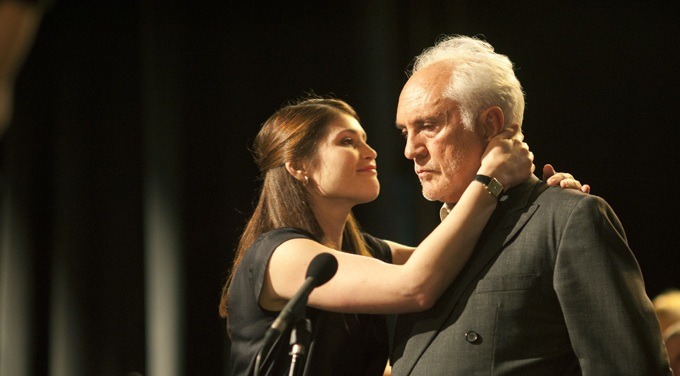 If you think there's nothing more hilarious than old people singing "Let's Talk About Sex," or more heartwarming than a prickly old grump revealing himself to be a big ol' softie, then Paul Andrew Williams' comedy-drama Unfinished Song is for you.
Terence Stamp stars as a cranky pensioner who joins a choir to please his beloved wife Marion (Vanessa Redgrave). Initially, he's irritated by the wacky ways of conductor Elizabeth (Gemma Arterton), but under her guidance he eventually comes to discover a new side of himself. Christopher Eccleston also stars. Watch the first trailer after the jump.
The choir group may play at being edgy and street, but the film itself feels blandly old-fashioned. Stamp, Redgrave, Arterton, and Eccleston make for a pretty solid cast, so it's too bad the movie surrounding them looks so uninspired.
Reviews out of Toronto last fall were tepid, with THR offering the half-hearted compliment that it's "less sappy than it might've been" and the Guardian dismissing it as "so corny it's hard to see it appealing to the audience that flocked to The Best Exotic Marigold Hotel." On the plus side, there seems to be a moving family drama underneath the wacky posturing and Hallmark Channel-worthy plot contrivances. Eccleston in particular has been praised for his complicated performance as Stamp's son.
Unfinished Song lands in theaters February 8.
Unfinished Song is a London-set comedic drama, about grumpy pensioner Arthur (Terence Stamp) who is reluctantly inspired by his beloved wife Marion (Vanessa Redgrave) to join a highly unconventional local choir. At odds with his son James (Christopher Eccleston) it is left to choir director Elizabeth (Gemma Arterton) to try and persuade Arthur that he can learn to embrace life. Arthur must confront the undercurrents of his own grumbling persona as he embarks on a hilarious, life-affirming journey of musical self discovery.