Rumor: Universal And Tolkien Estate Planning Middle-Earth Theme Park?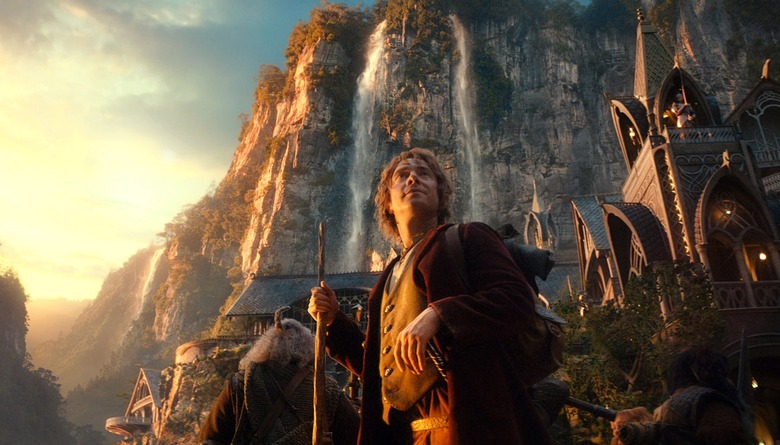 Dying to set foot in Middle-earth, but don't have the cash to shell out for a ticket to New Zealand's Hobbiton? If a new rumor is to be believed, Universal Studios could be planning a new Middle-earth theme park that'd presumably be much closer to home for American fans. According to an anonymous source, Universal and Warner Bros. have approached the Tolkien estate about the possibility of building a new attraction, and Universal has gotten as far as presenting its ideas to the Tolkiens. Read more after the jump.
Warner Bros., which already has a long relationship with the Tolkiens thanks to the Lord of the Rings and Hobbit films (if not always a happy one), talked up the success of Universal Studios' The Wizarding World of Harry Potter, describing how faithfully the park translated J.K. Rowling's vision. The Tolkiens reportedly spoke with Rowling herself, and apparently liked what they heard. Universal then got in contact with the Tolkiens to discuss their ideas.
It's important to keep in mind that this story is just rumor at this point, as nothing has been confirmed by Universal, Warner Bros. or the Tolkien estate. Even if it is true, it sounds like the project is just in the planning stages, meaning it'll be several years yet before we're able to set foot in Universal's Middle-earth park. At this point, we don't even know where the new attraction would go. But it makes sense that Universal would be looking into a Tolkien park, given both the runaway success of The Wizarding World of Harry Potter and the enduring popularity of Warner Bros.' Lord of the Rings / Hobbit movies.
For more detailed speculation on the potential Middle-earth park, head to Beyond the Thrills.
Discuss: What would you want to see in a Tolkien-themed attraction?