Hayley Atwell Won't Appear In 'Captain America: The Winter Soldier'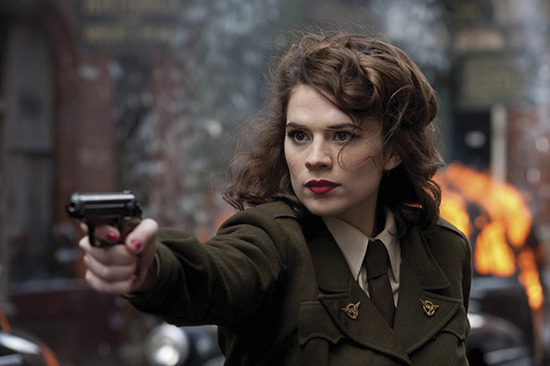 The character Captain America has had a couple of prime love interests, most prominent being Peggy Carter, encountered in his "pre-freeze" days in the '40s, and Sharon Carter, originally written as Peggy's sister, but later turned into her niece, when Cap is revived in the present. (Whatever "the present" happens to mean, depending on when the story is being told.)
Hayley Atwell played Peggy in Captain America: The First Avenger, and did a wonderful job with the role. Various story elements, however, including the fact that Cap now lives in our present, meant that Peggy wasn't likely to be a part of the sequel Captain America: The Winter Soldier. Atwell could always be recast as Sharon, but that was never likely to happen, and the actress has now confirmed that she won't be part of the sequel at all.TimeOut profiles the actress, who is appearing in the BBC adaptation of William Boyd's espionage novel, Restless, and reports that she's no longer in Cap's life:
" She won't, she confirms, be back for the [Captain America] sequel, which moves the action into the present day."
The Avengers revealed that Peggy Carter is alive in the modern era, but if we see her expect an older actress to cameo in the role. Meanwhile, despite the fact that any adaptation of the Winter Soldier storyline, originated in the pages of the Captain America comic series, should feature Sharon Carter, expect a different actress to be cast in that role.
Actresses such as Emilia Clarke (Game of Thrones), Jessica Brown Findlay (Downton Abbey), Teresa Palmer (Warm Bodies),Imogen Poots (Fright Night, Knight Of Cups), and Alison Brie (Community, Mad Men) have reportedly tested for the sequel's lead female role, but we don't have any casting yet. (Scarlett Johansson is confirmed to appear as Black Widow.) Anthony and Joe Russo are directing, and the film should shoot in March, for a release on April 4, 2014.