Watch The First Four Minutes Of Jonathan Levine's Zom-Rom-Com 'Warm Bodies'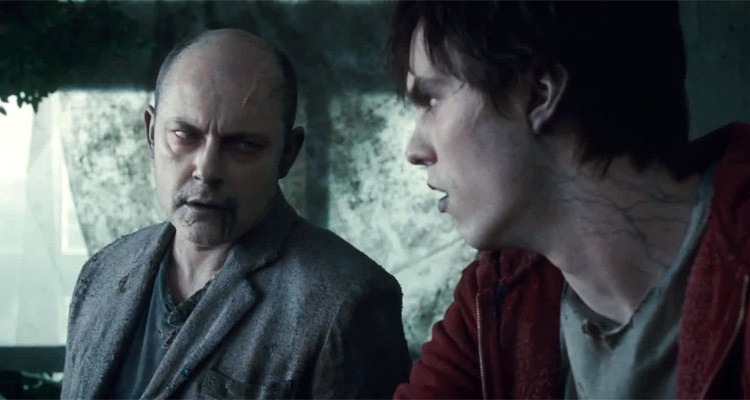 Both paranormal romances and zombie thrillers have abounded on the big screen in recent years, but next year's Warm Bodies promises to do something a little different by combining the two subgenres.
Directed by Jonathan Levine (50/50) based on the book by Isaac Marion, the zom-rom-com follows an unlikely relationship between the handsome-but-undead R (Nicholas Hoult) and the very-much-alive Julie (Teresa Palmer). The promos we've seen so far suggest a movie that's equal parts sweet and funny. Now the first four minutes have come online, giving us a better look at R and the grim, gray world he inhabits.
[Fandango]
For a zombie who struggles mightily to spit out the single word "hungry," R sure has a lot to say in his voiceover. Possibly too much — we have hardly a moment absorb the striking image of a corpse-filled airport before R jumps in to tell us what he thinks it all means. The very brief conversation with his pal M (Rob Corddry) is a cute moment, though.
Warm Bodies opens February 1, just in time for you and your favorite zombie to include it in your V-day plans.
WARM BODIES is an upcoming 2013 romantic zombie film based on Isaac Marion's popular novel of the same name. Directed by Jonathan Levine (50/50), the film stars Nicholas Hoult (Hank McCoy/Beast in the 2011 film X-Men: First Class) and Teresa Palmer (I Am Number Four). The film focuses on the development of the relationship between Julie (a teenage girl) and R (a zombie), their romance sets in motion a sequence of events that might transform the entire lifeless world.
R (Hoult) is a zombie. After a zombie apocalypse, he shambles across an America filled with collapsed buildings, rusted cars, shattered windows, and abandoned high-rises. He can only grunt or moan and craves human brains to get high on their memories. After eating the brains of a suicidal teen, R is overcome with love for the teen's companion, Julie Grigio (Palmer). R rescues Julie from his zombie pack and takes her back to his lair. She eventually leaves, and R follows her back to Citi Stadium, the largest remaining human refuge.