Superhero Bits: Man Of Steel, The Avengers, Dark Knight Rises, X-Men Days Of Future Past, Iron Man 3, Guardians Of The Galaxy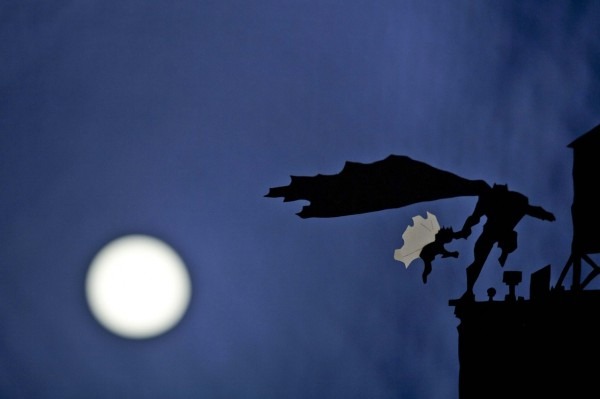 Where can you download a full look at the For Your Consideration ads for The Dark Knight Rises? Has the Man of Steel trailer been sweded? What do Superman and Batman think of it? Want to see some Iron Man 3 toys? Did James Gunn delete a tweet regarding casting of Guardians of the Galaxy? Want to read, and hear, Joss Whedon talking S.H.I.E.L.D, Avengers 2 and The Avengers? Was Tom Hiddleston going to direct Thor: The Dark World? Did Michael Caine invent an Alfred backstory for The Dark Knight Trilogy? Read about all this and more in today's Superhero Bits.
You've gotta love Sweded trailers and here's one for Man of Steel by Dust Films. Thanks to Comic Book Movie.
Jeff Goldsmith spoke to Joss Whedon about The Avengers and you can listen to the 45 minute podcast here. I was in attendance and it was great.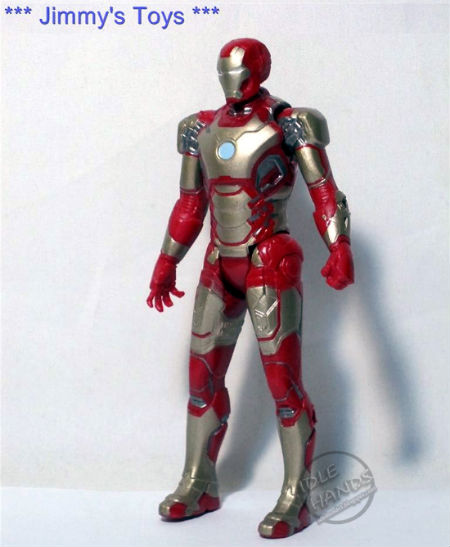 Idle Hands (via CBM) has what appears to be a first look at the 3.75 inch Iron Man 3 figures. There are some very different suits there that could be considered spoilers.
Talking to The Playlist, Joss Whedon discussed S.H.I.E.L.D. and Avengers 2:
There's been enormous progress. We are trundling along, I can't share much. And by much I mean anything. I can say that "S.H.I.E.L.D" came together in a very organic way. And part of my taking "Avengers 2" was that I'd have the opportunity to work in the Marvel universe. I didn't exactly know I'd be running a TV show five minutes later. Yeah, but it's something I really believe in. Although, "Avengers" is the top of my list of exciting new things, "S.H.I.E.L.D." is really talking to me.
A comic book fan proposes to his wife with a Iron Man Arc Reactor. Thanks to Gizmodo.
The tweet has since been deleted but Comic Book Movie captured Guardians of the Galaxy director James Gunn refuting some recent casting rumors.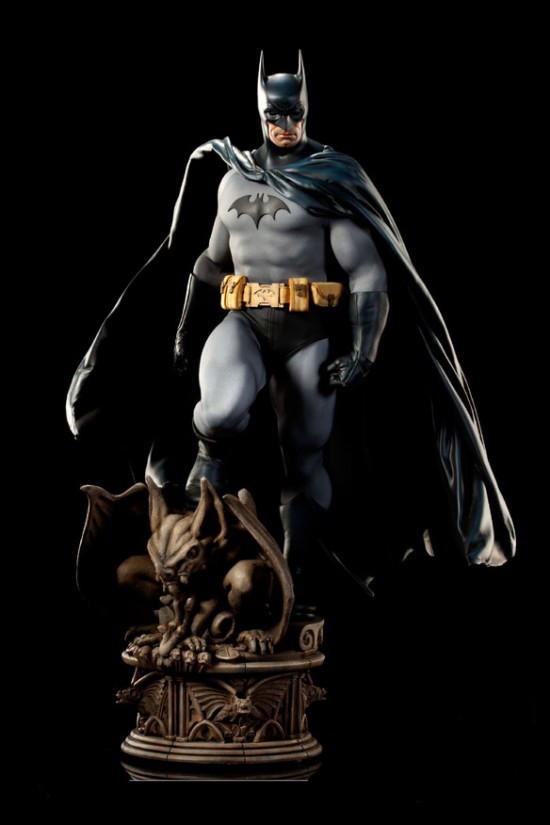 Sideshow is pre-selling this Batman premium format figure.The Geek Twins list 10 stories that would make great future X-Men movies.
Due to the amount of graphics and images included in Superhero Bits, we have to split this post over THREE pages. Click the link above to continue to the second page of Superhero Bits.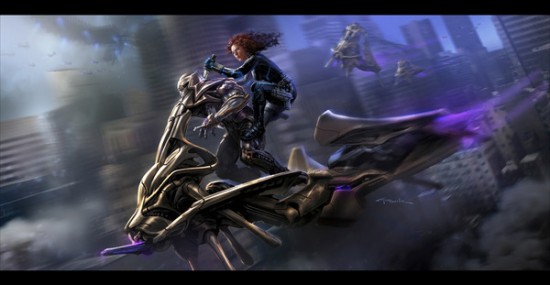 Concept artist Andy Park did a bunch of work on The Avengers and posted it online. Head to his site (via SHH) for more.
Empire (via CBM) asked Tom Hiddleston if he had the desire to direct and he revealed he asked to direct Thor: The Dark World:
I did ask, half-jokingly, Kevin Feige about directing Thor 2 and he said, 'Do you have something to show me?' I said no. He said, 'If you made something and showed me, I might consider it.' But it's better for the world that he said no. It would be such a responsibility, but I think I'd enjoy it.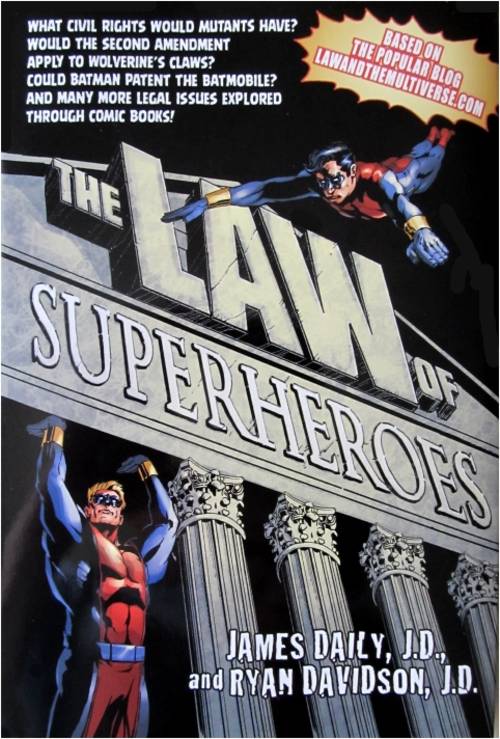 Want to learn the law told with superheroes? Boing Boing reviews the book, The Law of Superheroes.
Films like Iron Man 3 filming in North Carolina has helped the state, according to the LA Times.
Batman and Superman discuss the Man of Steel trailer, thanks to HISHE.Superhero Hype has some info on top secret Iron Man 3 Marvel Selects.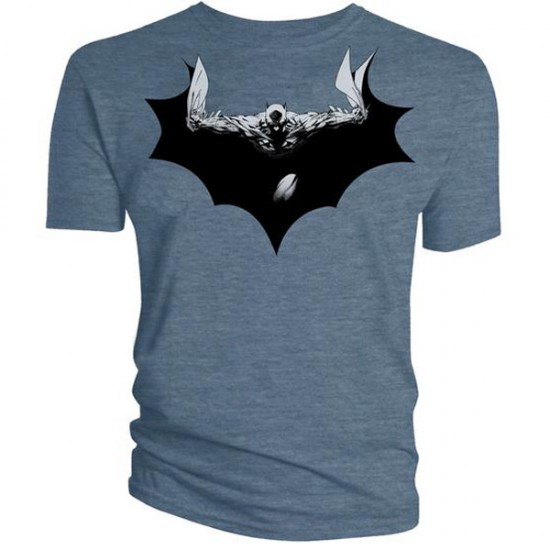 Very cool Batman flying symbol t-shirt via Geek Alerts.
Batman News discovered Warner Bros created a Dark Knight Rises eBook you can download with all of the film's Oscar For Your Consideration ads.
Due to the amount of graphics and images included in Superhero Bits, we have to split this post over THREE pages. Click the link above to continue to the third page of Superhero Bits.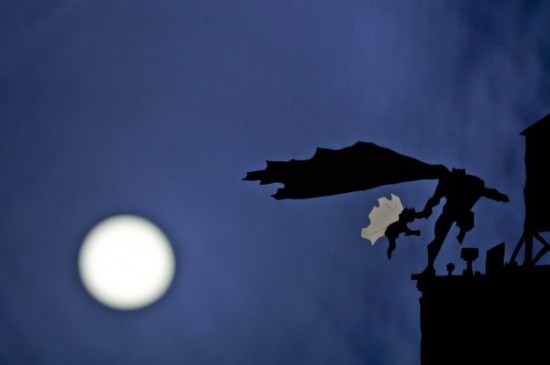 Photographer David A. Reeves creates places, silhouettes and then takes amazing pictures. Thanks to Kotaku.
The Ultimate Spider-Man cartoon returns on January 21.
Here, Michael Caine describes the backstory he created for Alfred working on Christopher Nolan's Batman films. Thanks to Playlist.
Check out this behind the scenes For Your Consideration video Warner Bros. created for The Dark Knight Rises.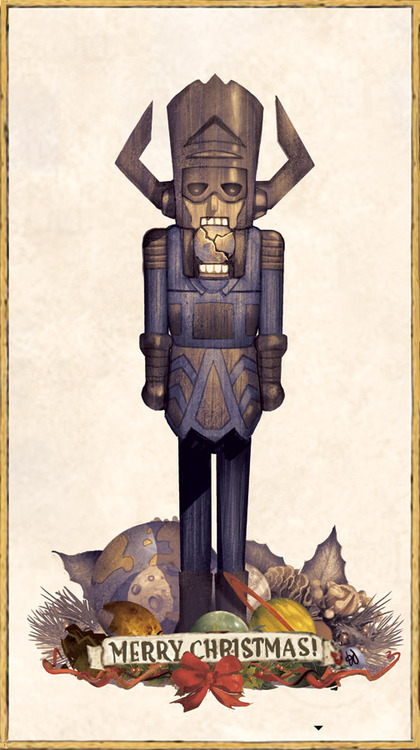 Artist Mike Del Mundo created this Nutcracker Galactus via IO9.
Read details on the premieres of The Dark Knight Returns Part 2 and see some new images.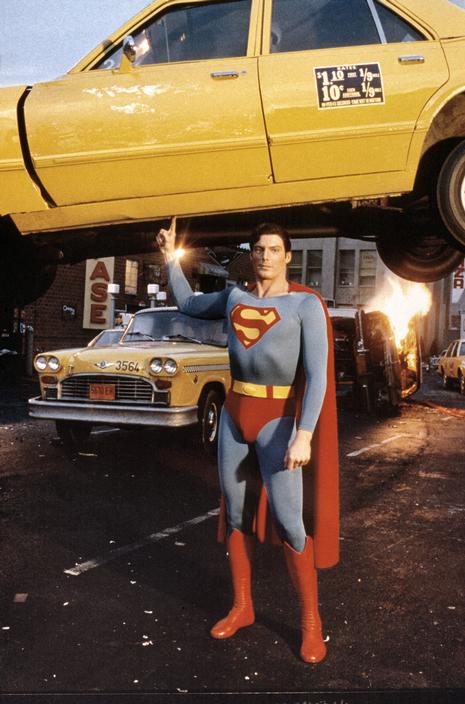 Reddit found this old photo of Christopher Reeves holding a taxi up as Superman.
Speaking to Hero Complex, Patrick Stewart had this to say about X-Men: Days of Future Past:
I'm very happy to report that Bryan Singer is coming back to direct the movie. I'm very happy that my lovely friend Ian McKellen is going to be with me. I don't know anyone else who is to be involved in the project. Maybe it's just the two of us! That would be a movie! Magneto and Xavier's conversations.... I'm not being cute. That's all I know. Maybe once the holidays are over, more information will begin to come through. I have a vague idea of the time commitments, but I don't know where we're going to shoot. But I'm greatly looking forward to it.