'Star Wars' Bits: J.J. Abrams Turned Down 'Episode VII,' Plus Disney Acquisition Is Official, Ewan McGregor, Samuel L. Jackson And More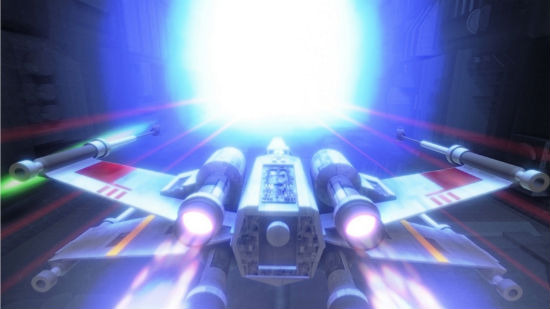 Christmas is over and that means it's time to get back to the biggest news story of 2012: Star Wars. Lots of little things are going on in the world of Disney, Lucasfilm and a Galaxy Far, Far Away and we've rounded it all up for you in this edition of Star Wars Bits. After the jump read about the following:
J.J. Abrams comments on being offered and turning down Star Wars Episode VII.
Star Trek star Chris Pine suggests he'd be open to appearing in both worlds.
Disney's acquisition of LucasFilm is now complete.
George Lucas and Kathleen Kennedy talk to Star Wars Insider about the franchise's future.
Create and grade your own Star Wars Episode VII with a new, funny flash game.
Watch Ewan McGregor talk about first hearing about the new Star Wars films.
What is the game Star Wars: Trench Run and how can you see it?
Samuel L. Jackson is still campaigning to appear in Episode VII.
Katie McGrath, a star on BBC's Merlin, wants in.
The second biggest news in the world of Star Wars right now is a quote from Empire Magazine from director J.J. Abrams. Abrams confirms he was asked about participating early on, but turned it down.
There were the very early conversations and I quickly said that because of my loyalty to Star Trek, and also just being a fan, I wouldn't even want to be involved in the next version of those things. I declined any involvement very early on. I'd rather be in the audience not knowing what was coming, rather than being involved in the minutiae of making them.
Here is a screenshot of the iPad version of the article (in two parts) so you can read the full context, as well as Chris Pine offhandedly suggesting he doesn't want to comment too much on Star Wars, thereby making it sound (almost?) like he could be a part of Star Wars.
If that's the second biggest piece of news what's the biggest? Well, something official of course. The acquisition of LucasFilm by Disney has now been made official. Here's the press release from Deadline.
Continuing its strategy of delivering exceptional creative content to audiences around the world, Robert A. Iger, President and Chief Executive Officer of The Walt Disney Company (NYSE:DIS) announced today that Disney has completed its acquisition of Lucasfilm Ltd. LLC.
"We're thrilled to welcome Lucasfilm to the Disney family," said Iger. "Star Wars is one of the greatest family entertainment franchises of all time and this transaction combines that world class content with Disney's unique and unparalleled creativity across multiple platforms, businesses, and markets, which we believe will generate growth as well as significant long-term value."
Under the terms of the merger agreement, at closing Disney issued 37,076,679 shares and made a cash payment of $2,208,199,950. Based upon the closing price of Disney shares on December 21, 2012 at $50.00, the transaction has a total value of approximately $4.06 billion.
Lucasfilm's assets include its massively popular Star Wars franchise, operating businesses in live action film production, consumer products, animation, visual effects, and audio post production, as well as a substantial portfolio of cutting-edge entertainment technologies. It operates under the names Lucasfilm Ltd. LLC, LucasArts, Industrial Light & Magic, and Skywalker Sound.
MTV has an official excerpt from the new issue of Star Wars Insider, LucasFilm's official magazine of the Star Wars universe. In it, Kathleen Kennedy and George Lucas talk about the future of the franchise. There's nothing particularly new – in the excerpt at least – but it's always kind of interesting. Here's a taste of the the interview. head to MTV for more:
George Lucas: I always said I wasn't going to do any more... and that's true, because I'm not going to do them. But that doesn't mean I'm unwilling to turn it over to Kathleen [Kennedy] to do more. I have story treatments of "Episodes VII," "VIII" and "IX" and a bunch of other movies, and obviously we have hundreds of books and comics, and everything you could possibly imagine. I moved that treasure trove of stories and various things to Kathleen and I have complete confidence that she's going to take them and make great movies.
Kathleen Kennedy: I like to think as we move forward that the fans are on board, they help us, they support what it is we're trying to do. The main thing is to protect these characters and that they still continue to live in the way that George created them. And that the universe of "Star Wars" continues to grow in ways they can get excited about. Everybody involved in trying to create these films are fans, too. And that is what we want to try to protect.
Well this is hilarious and awesome. Ben Johnson and Joe Kowalski created a fun flash game called Star Wars: Sequel Debacle Simulatron where you pick the writer, director and star of Episode VII, then choose a balance of genre and title, then it tells you how well it would do at the box office. My Neil Gaiman-written, Steven Spielberg-directed film Revenge of the Gungans starring Harrison Ford was a major flop. Click below to play. Thanks to Gameological.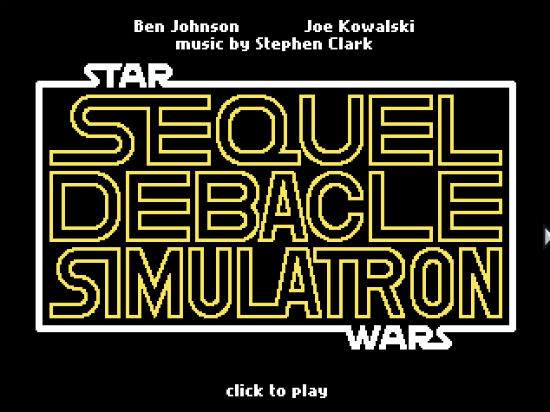 The star of the prequel trilogy, Ewan McGregor, spoke to Collider about how he found out about the new Star Wars movies. George Lucas told him the night before we found out. It's at 3:33 below.
A few weeks back, Den of Geek published some quotes from Colin Trevorrow about the rumor that he was in the running for Star Wars Episode VII. They've now published the full interview, which is pretty great, especially since it focuses on Safety Not Guaranteed, the film people saw that made the previous assumption even fathomable.
Cinemablend found a video and hi-res screenshots (at top) of the beginning stages of a fan video game mod called Star Wars Trench Run. Being as this is a "Bits" article, I'm just going to post the video and direct you there for more information, including the screenshots. But it's pretty damn gorgeous.
Speaking with Movieline about his role in Django Unchained, Samuel L. Jackson once again said he's doing what he did for the prequels: Campaigning to be a part of it. It worked one time, could it work again? Read more at that link but here's a quote:
I'm campaigning.  They haven't approached me yet.  I've been putting my feelers out there, and I've got all my people on Twitter talking about it.  So hopefully they'll hear it and whoever's writing the story will, you know, write me in as an Obi-wan Kenobi  hologram ghost, or maybe even I can fuckin' show back up with one hand. He is a Jedi.
Finally, Katie McGrath – a star on BBC's Merlin, is the latest to put her name on the list of actors who'd like to be in the Star Wars films. Read more at The Fan Carpet.