Kristen Stewart Confirms Return For 'Snow White And The Huntsman' Sequel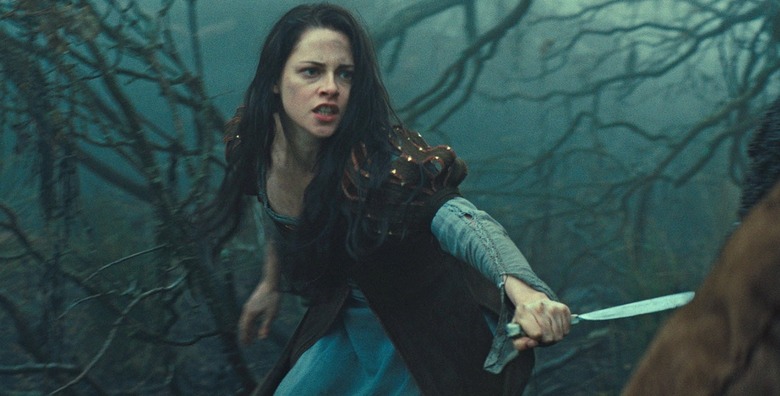 Universal's been unambiguous about its desire to see a Snow White and the Huntsman 2, but it's been less clear about the direction it wants that sequel to take. After the studio fast-tracked the follow-up in June, news broke in August that Snow White (Kristen Stewart) could but cut out of the equation altogether — only for the studio issue a denial and insist that they were still "exploring all options."
Now it looks like they've finally made a decision. Stewart is following up last month's comments about the "strong possibility" of her return with an actual confirmation. More details after the jump.
At the time, the studio was said to be ditching David Koepp's script to rework the film as Snow-free spinoff centered around Chris Hemsworth's Huntsman. Koepp has, in fact, left the project, but based on Stewart's comments to ET (via Coming Soon) it appears reports of a Huntsman-only adventure were greatly exaggerated.
"Oh, it's gonna be fucking amazing," Stewart said of Snow White and the Huntsman 2. "I'm not allowed [to talk about it]. The other day I said that there was a strong possibility that we're going to make a sequel, and that's very true, but everyone was like, 'Whoa, stop talking about it.' So no, I'm totally not allowed to talk about it."
Even with Stewart on board, though, the project has a few more pieces to pull together before it can move forward. Sanders is not returning, and a new helmer has yet to be named.