TV Bits: 'Parks & Recreation', 'Game Of Thrones', 'Once Upon A Time', '1600 Penn', 'The League', Kristen Schaal, Amazon Prime, And More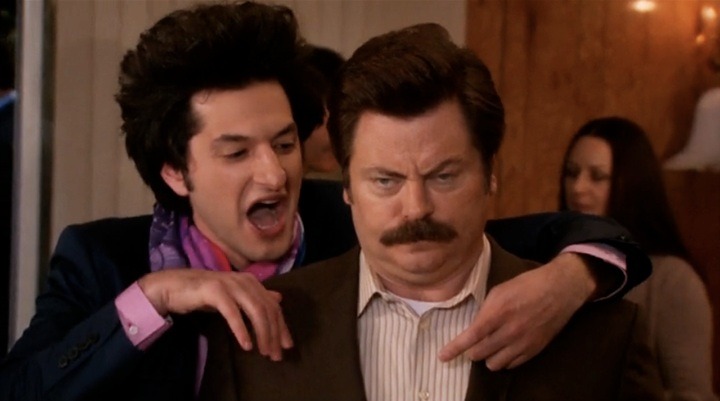 Today's TV Bits comes with the caveat that none of this applies if the world actually ends on 12/21/12. After the jump:
Black Dynamite, Catfish, The League, and Psych get renewed
Cinemax sets a January premiere date for Alan Ball's Banshee
Game of Thrones gets more screen time and its own beer
Jason Schwartzman and Jenny Slate head to Parks & Rec
Rose McGowan is Once Upon a Time's young Barbara Hershey
Amazon Studios orders pilots from Kristen Schaal, Garry Trudeau, and more
The premiere episode of NBC's 1600 Penn hits the web
Also getting a second season is MTV's reality series Catfish. No surprise there — the show got off to a strong start in November and has been killing it in the ratings ever since. [Variety]
As The League ends its fourth season this week, FX has announced that they're sticking with the comedy for another year. The 13-episode fifth season will enter production in the summer for a fall debut. [Variety]
Finally, Psych has been renewed for an eight and possibly final season at USA. Season 7 begins airing Febraury 27. [TV Line]
Cinemax has set a premiere date of January 11 for Banshee, the new action series by True Blood and Six Feet Under creator Alan Ball. Antony Starr leads the cast as a sly ex-con who poses as the sheriff of Banshee, Pennsylvania so that he can hide from his enemies and continue his criminal activities. [Deadline]
HBO's Game of Thrones covers a lot of ground in each season, so it's great to hear the Season 3 will be a little longer than usual. While we'll still get the same number of episodes, the individual episodes will run a few minutes longer than usual.
"Last year we had a lot of 52-minute episodes. This year is a lot of 56, 57," co-showrunner David Benioff explained. GoT's other showrunner, D.B. Weiss, added, "So for people clamoring for another episode, it's in there. It's just been cut into tiny pieces." The network offered its own clarification: "All 10 episodes gained a minute or two from past seasons with the finale very possibly exceeding 60 minutes." [Jo Blo]
What Game of Thrones will do with those extra minutes remains to be seen, but I, for one, plan to spend that time savoring some tasty, thematically appropriate brew. HBO has joined forces with Brewery Ommegang for a new line of beers. The first release will be the Iron Throne Blonde Ale, available on draft and in bottles starting in March. (Not coincidentally, the new season kicks off at the end of that month.) The second, as-yet-unnamed beer will debut in the fall.
In a press release, the companies promised "unique beers that are named and crafted to directly tie into themes and nuances of the medieval-like fantasy realm of Westeros and the surrounding kingdoms, where the competition to sit on the Iron Throne is fierce and deadly." I have no idea what a Westeros-flavored drink is supposed to taste like, but having sampled some of their other brews, I'm betting it'll be delicious. [LA Weekly]
Parks & Recreation will be visited by two Bored to Death alums. Jason Schwartzman has signed on for a guest role as Dennis Lerpiss, the owner of the Pawnee VideoDome. He joins forces with Leslie (Amy Poehler) to get his video rental store designated as a historical landmark.
Even more intriguing is the casting of Jenny Slate, who'll appear in at least one episode as Jean-Ralphio's twin sister Mona Lisa. (Because of course Jean-Ralphio has a sibling named Mona Lisa.) She's hired by Tom (Aziz Ansari) as a Rent-A-Swag salesperson, but turns out to have a work ethic no better than her brother's. [HuffPo, EW]
Rose McGowan is the new Barbara Hershey. Or maybe it's more accurate to call her the old Barbara Hershey. In any case, McGowan has been cast in ABC's Once Upon a Time as a younger version of Cora, the evil queen played by Hershey, in an episode that will explore the character's origins. The series continues its second season on January 6. [TV Line]
Amazon Studios is foraying into television with six comedy pilots. Five of the six come from industry veterans — like Kristen Schaal, Garry Trudeau, and alums from The Daily Show, The Big Bang Theory, 30 Rock, Reno 911!, and The Onion — while the sixth is the creation of unknowns who responded to the company's call for proposals earlier this year. Titles and descriptions below:
Alpha House
Alpha House was written by Academy Award nominee and Pulitzer-Prize winner Garry Trudeau (Doonesbury, Tanner '88). Alpha House follows four senators who live together in a rented house in Washington DC.
Browsers
Written by 12-time Emmy-winning comedy writer David Javerbaum (The Daily Show) and to be directed by Don Scardino (30 Rock), Browsers is a musical comedy set in contemporary Manhattan that follows four young people as they start their first jobs at a news website.
Dark Minions
Written by Big Bang Theory co-stars Kevin Sussman and John Ross Bowie, Dark Minions is an animated workplace series about two slackers just trying to make a paycheck working an intergalactic warship. The pilot will be produced by Principato-Young (Reno 911).
The Onion Presents: The News
The Onion Presents: The News is a smart, fast-paced scripted comedy set behind the scenes of The Onion News Network that shows just how far journalists will go to stay at the top of their game. The Onion Presents: The News is from The Onion's Will Graham & Dan Mirk (The Onion News Network, The Onion Sportsdome).
Supanatural
Supanatural is an animated comedy series about two outspoken divas who are humanity's last line of defense against the supernatural, when they're not working at the mall. The series, written by Lily Sparks, Price Peterson and Ryan Sandoval, will be produced by Jason Micallef (Butter) and Kristen Schaal (The Daily Show).
Those Who Can't
Written by Andrew Orvedahl, Adam Cayton-Holland and Benjamin Roy (Grawlix), who were discovered through Amazon Studios online open door process, Those Who Can't is a comedy about three juvenile, misfit teachers who are just as immature, if not more so, than the students they teach.
Once completed, the pilots will be made available on Amazon Instant Video at no charge to viewers. The ones that prove most popular will then get picked up to series. [Engadget]
NBC has posted the first full episode of 1600 Penn, the White House family sitcom starring Bill Pullman, Jenna Elfman, and Josh Gad. The pilot first aired earlier this week, but if you missed it the first time and need something to watch over the holiday weekend, you can check it out below or at NBC.com.