'Turbo' Teaser Trailer: This Little Guy Has A Long Way To Go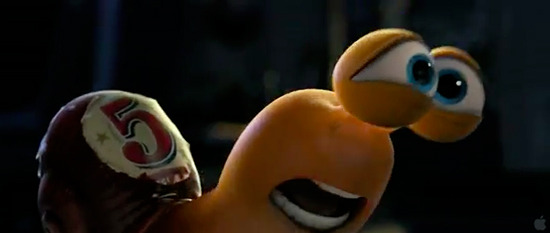 One of the next animated outings from DreamWorks is Turbo, which features Ryan Reynolds as the voice of a snail who is determined to win the Indy 500. Yeah, seems like that might be difficult.
This first teaser for the film turns out to be pretty cute, as we see the lil' snail doing a time trail well away from the Indianapolis track. (Complete with music from the soundtrack to Drive.) Suffice to say, he's got some training to do. Check out the footage below.
Apple has the trailer. Turbo opens on July 19, 2013.
From the makers of Madagascar and Kung Fu Panda, Turbo is a high-velocity 3D comedy about an underdog snail who kicks into overdrive when he miraculously attains the power of super-speed. But after making fast friends with a crew of streetwise, tricked-out es-car-goes, Turbo learns that no one succeeds on their own. So he puts his heart and shell on the line to help his pals achieve their dreams, before Turbo-charging his own impossible dream: winning the Indy 500.