'Admission' Trailer #2: If You Were Tina Fey, You Would Kill Yourself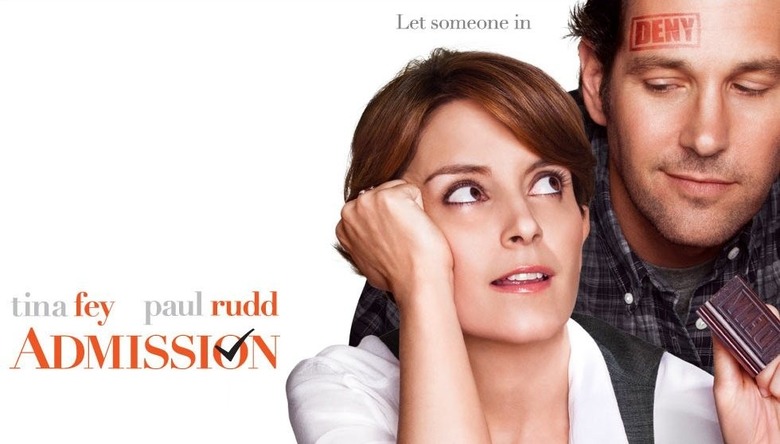 For high school seniors, college admissions board members can seem almost godlike in their power over the futures. From the time the kids send in their application to the time they hear back, the fate of the world seems to rest in the schools' hands.* But as the new trailer for Admission shows, the process isn't always a pleasant one for the folks on the other end, either.
In the new film by Paul Weitz, Tina Fey plays a Princeton admissions officer who takes a recruiting trip to an unusual school run by her former college classmate Paul Rudd. It turns into a potentially life-changing event when she crosses paths with a boy (Nat Wolff) who may or may not be the son she gave up long ago. Watch the video after the jump.
[via The Film Stage]
Admission is being billed as a comedy, but based on both of the trailers it looks much more like a drama with some comedic moments. Maybe the disconnect just comes from the trailer being a bad representation of the movie, but if it's indicative of an uneven tone it could prove a problem. I hope not, because this looks pretty sweet otherwise. And because Rudd and Fey make a really, really adorable couple.Admission opens March 8.
Tina Fey (Date Night, 30 Rock) and Paul Rudd (I Love You Man, Knocked Up) star in Admission, the new film directed by Academy Award nominee Paul Weitz (About a Boy), about the surprising detours we encounter on the road to happiness. Straight-laced Princeton University admissions officer Portia Nathan (Fey) is caught off-guard when she makes a recruiting visit to an alternative high school overseen by her former college classmate, the free-wheeling John Pressman (Rudd). Pressman has surmised that Jeremiah (Nat Wolff), his gifted yet very unconventional student, might well be the son that Portia secretly gave up for adoption many years ago. Soon, Portia finds herself bending the rules for Jeremiah, putting at risk the life she thought she always wanted — but in the process finding her way to a surprising and exhilarating life and romance she never dreamed of having.
* Side note to young people: It doesn't. Life goes on even if you don't get into your #1 choice, I promise.